St Mary's Roman Catholic Cemetery
Street Address: 12048 County Road 34
Community: Maidstone
Township: Maidstone Township (NTR Lot 293)
Locality: Essex County
Municipality: Lakeshore
Province: Outside CanadaON
GPS: 42.208254,-82.883335


Church / Denomination: St. Mary's. Roman Catholic.

Registered to* R.C.E.C. of Diocese of London. Property donated by Patrick McNally who died in 1894 at the age of 83. The first adult interred was John McFarland on July 15, 1874. When St. Mary's Church was completed in 1848, a cemetery was established and remained in use for 25 years (1873) when the current cemetery was opened when the new church was completed. Those buried in the old cemetery were moved, along with the markers, to the new cemetery so you will find markers with inscriptions Ann, Wife of Michael Cavanagh, Died Nov 7, 1858, Age 46 yr. It wasn't until a Cemetery Board was formed in 1939 that record keeping was formalized so few records exist of the early years. Since the early 1970's, graves have been sold only to parishioners. (Information from the book on the history of "St. Mary's Parish, Maidstone, Ontario 1846-1996").

GENEALOGY RESOURCES (Add / Remove a link)
These links are provided for your convenience and may take you to websites that offer products and/or services for sale. CanadaGenWeb's Cemetery Project does not control the content offered - take note of our site design, if it changes you've left this website!
On the Internet

Not on the internet
SOURCES / THANKS
Doug Gammon
Sharon Mulcaster






Photos courtesy of Bob Garant [2010], J. Meloche, Brian Smith, Doug & Donna Gammon [2013]
Indexed by Sherri Pettit, Norma Falconer, Tom Thompson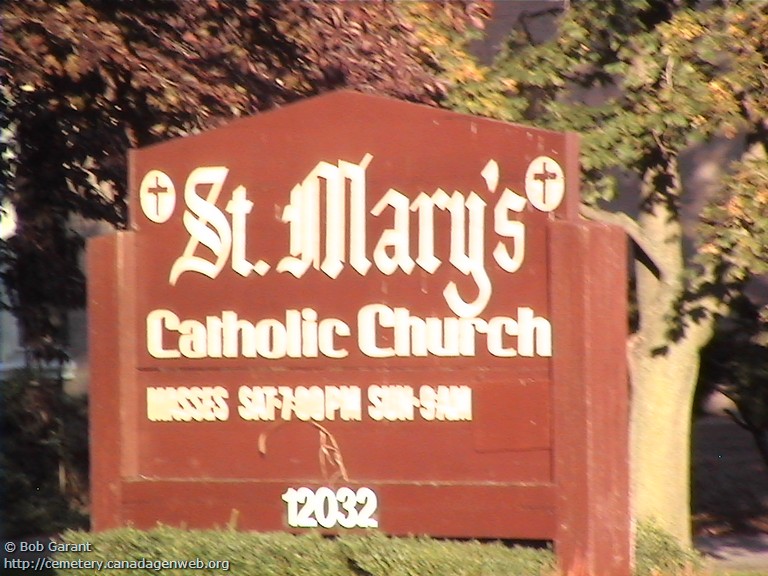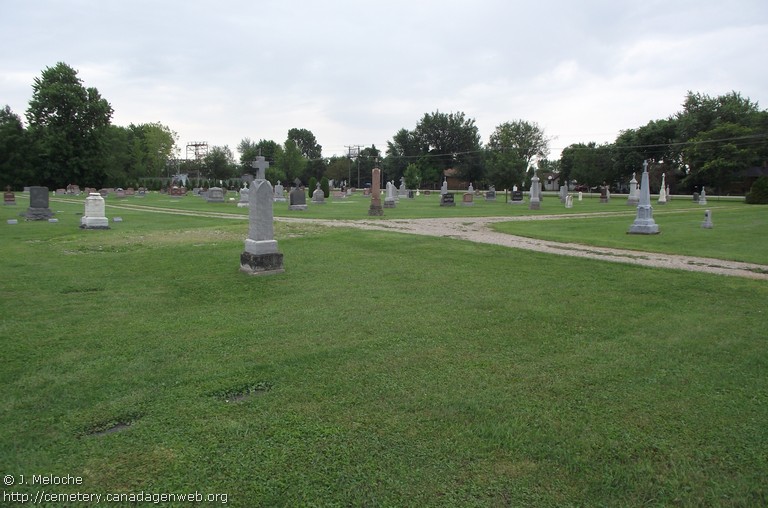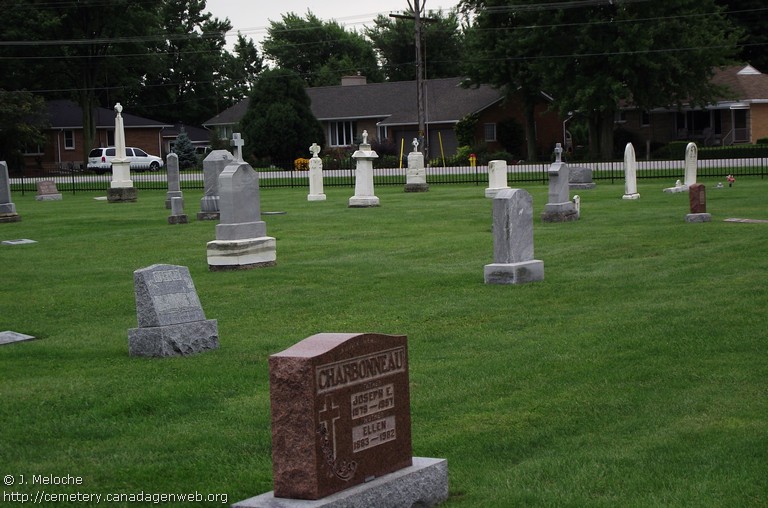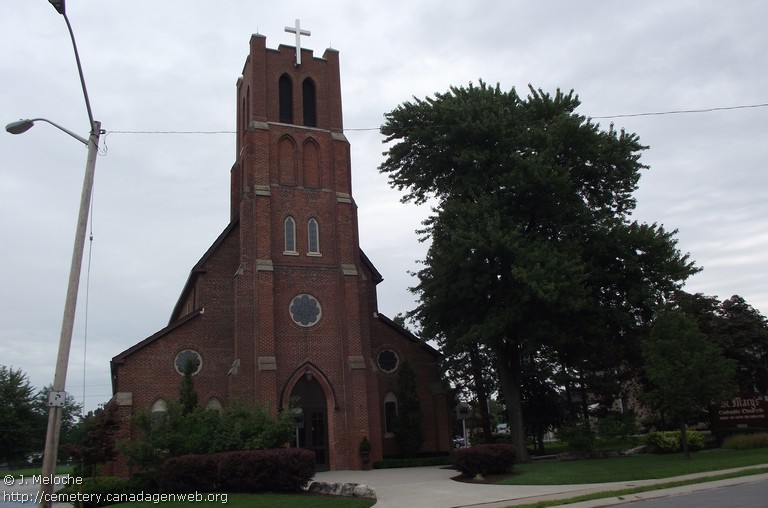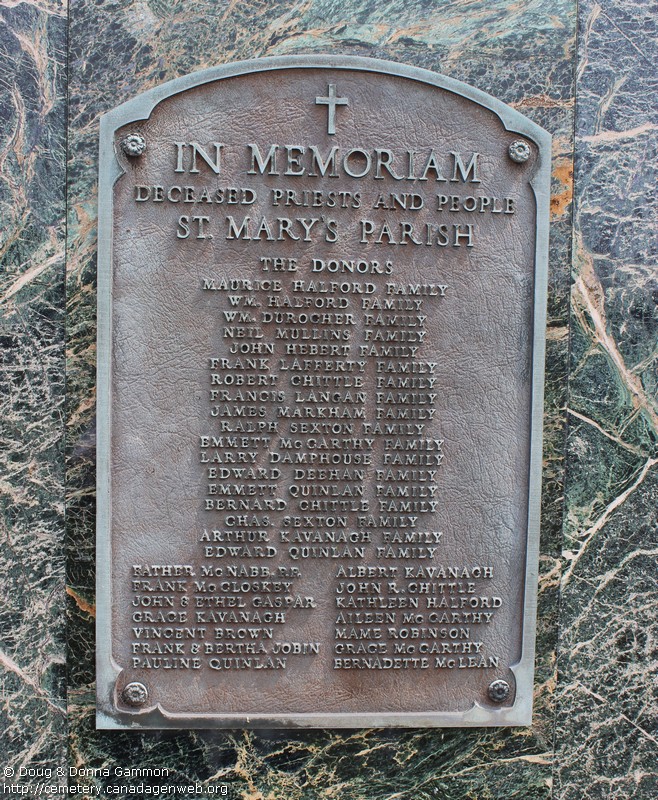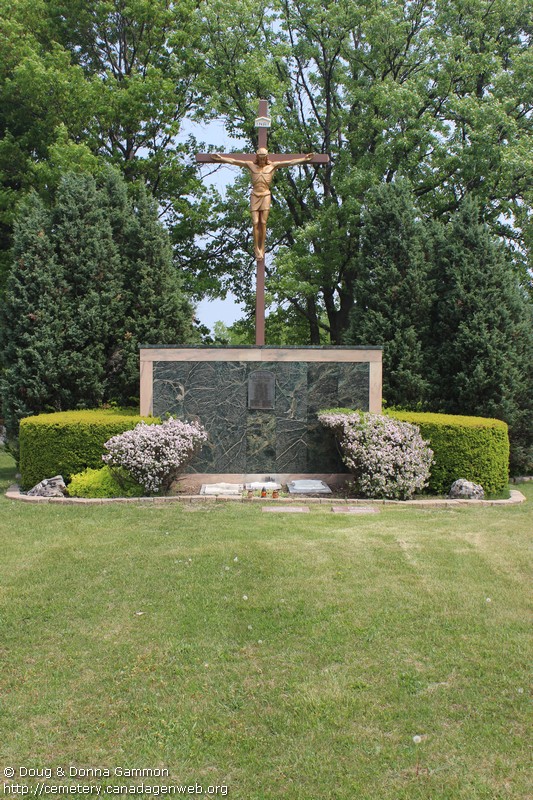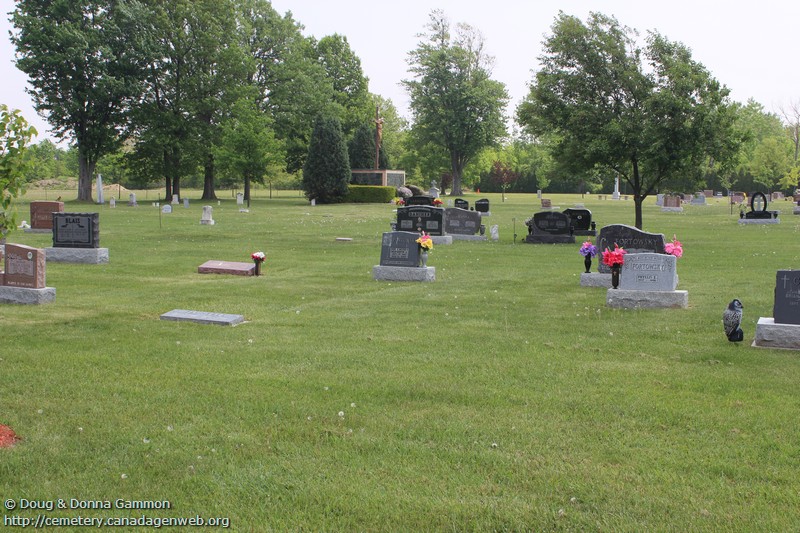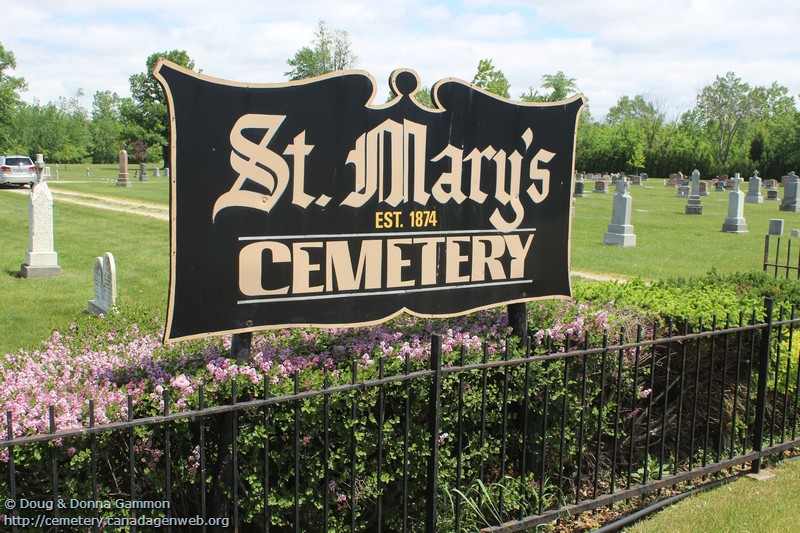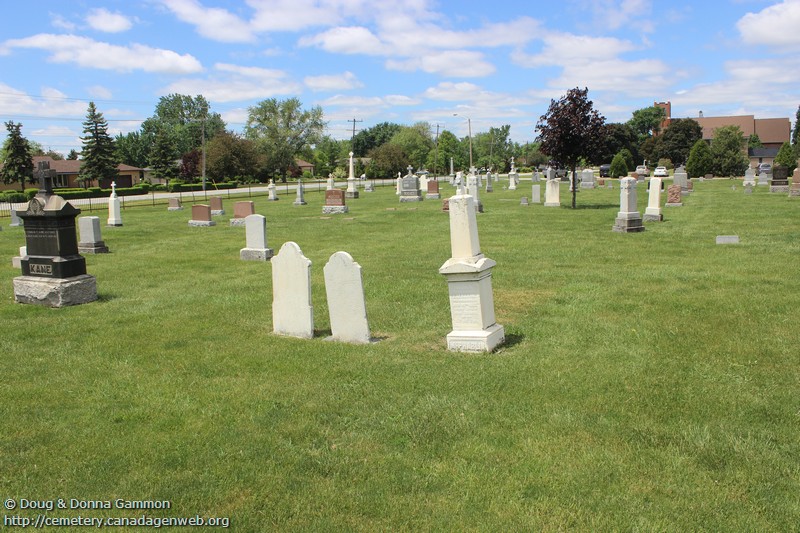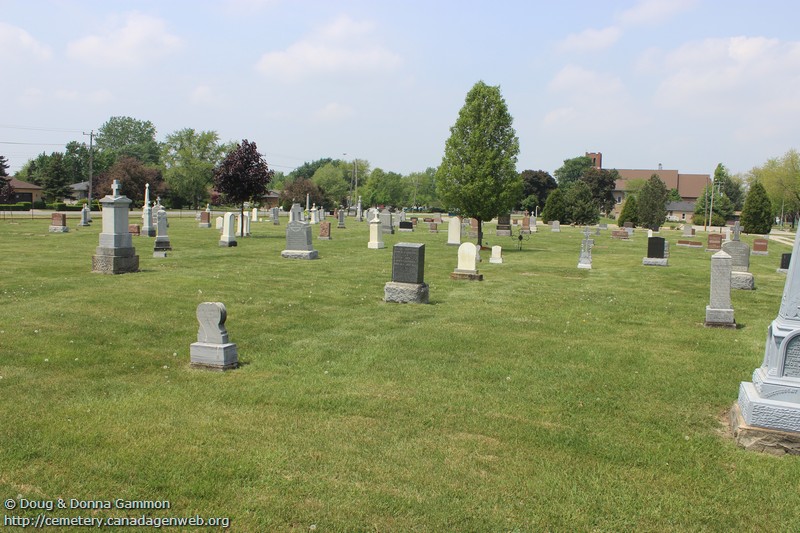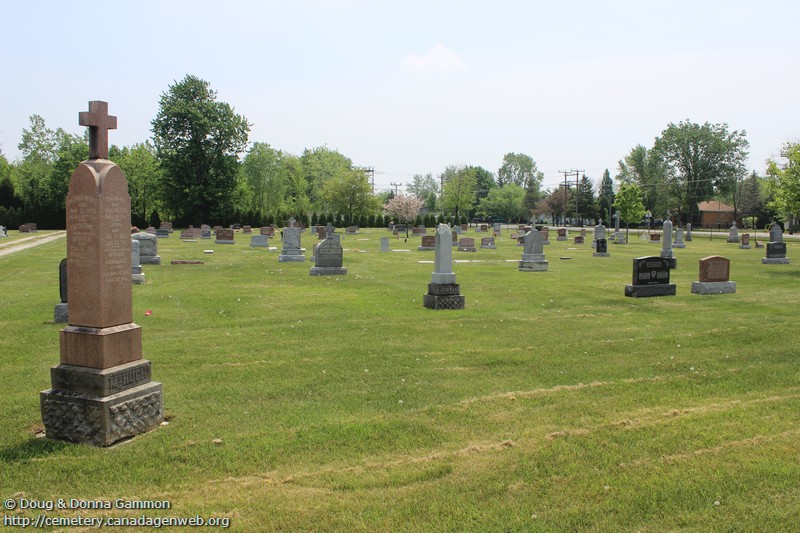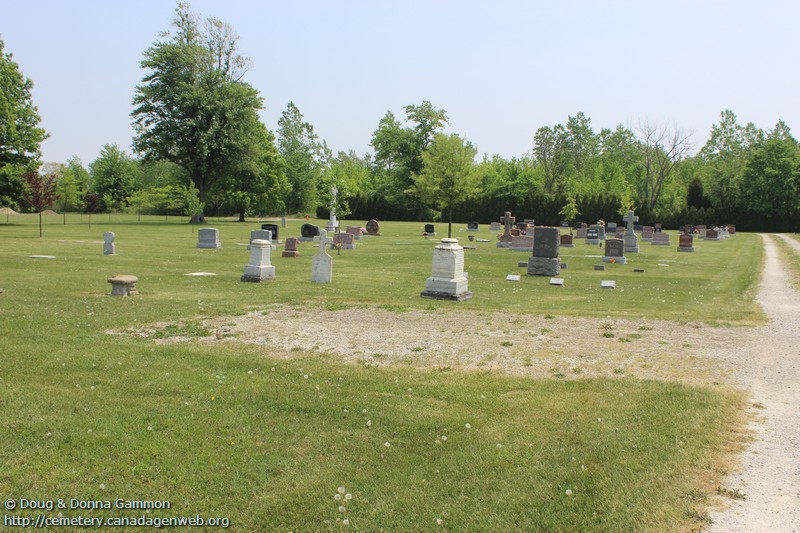 This index represents ALL visible headstones still in existence at the time this cemetery was visited
A B C D E F G H I J K L M N O P Q R S T U V W X Y Z All
- All persons named in this index may not be interred in this cemetery. Some are designated as spouse or parent on appropriate stones, and may not have their own birth and death recorded here (FAQ).
- Women, if maiden names are known, will appear under both their maiden and married names.
Name
Born - Died
D., C.
marker
DAHL, Jordan James
1993 - 1993
DANAHER, Catherine (Donovan)
1860 - 1926 (age: 66)
DANAHER, Ellen
1857 - 1926
DANAHER, John
1894 - 1965
DANAHER, Mary L.
1891 ?
DANAHER, Mary Louise
1916 - 2004
DANAHER, Patrick
1854 - 1927 (age: 73)
DANAHER, William
1846 - 1925
DANIHER, Gordon J
1910 - 1968
DANIHER, Patrick
DANIHER, Patrick J
1949 - 2001
DAVID, Alfred C.
1877 - 1936
DAVID, Edna M.
1905 - 1983
DAVIES, Kathleen
1895 - 1966
DAWSON, Alexander
1872 - 1951
DAWSON, Alma M.
1910 - 1974
DAWSON, Diane A
1906 - 1996
DAWSON, George J.
1902 - 1969
DAWSON, Johanna (Higgins)
1873 - 1947
DAWSON, Margaret
1904 - 1949
DAWSON, Mary C.
1914 - 1988
DAWSON, Milford
1897 - 1977
DEEHAN, Agnes (Kane)
1887 - 1967
DEEHAN, Anges
parent
DEEHAN, Clifford
1912 - 1952
DEEHAN, Edna
1915 - 1951
DEEHAN, Edward
parent
DEEHAN, Edward J.
1884 - 1955
DEEHAN, Elizabeth (Robinson)
1848 - 1938
DEEHAN, Elizabeth Grace
1919 - 2009
DEEHAN, Ernest R
1926 - 1969
DEEHAN, James
1849 - 1925
DEEHAN, James
1849 - 1925
DEEHAN, Josephine
1897 - 1970
DEEHAN, Mae
1881 - 1973
DEEHAN, Patrick J
1958 - 1975
DEEHAN, Rita M
1922 - 1972
DEEHAN, Roy Joseph
1923 - 1928
DEEHAN, Stanley James
1927 - 2009
DEEHAN, Theodore E
1917 - 1996
DELAURER, Rachel
1923 - 2007
DELISLE, Catherine
1810 - 1878 (age: 68)
DELISLE, Catherine
1810 - 1878 (age: 68)
DELISLE, Peter
spouse
DELISLE, Peter
spouse
DELMORE, Frank
1843 - 1896
DELMORE, Jennie F.
1880 - 1964
DELMORE, Mark
1884 - 1908
DELMORE, Martha
1860 - 1932
DENEAU, Irene (Cahill)
1887 - 1946 (age: 59)
DENEAU, Irene (Cahill)
1887 - 1946 (age: 59)
DESJARDINS, Eugene
1929 - 2009
DESJARDINS, Shirley
1935 - 2009
DESLIPPE, Annie
1879 - 1970
DESLIPPE, Charles
1877 - 1962
DESLIPPE, Josephine
1883 - 1961
DESLIPPE, Louis
1872 - 1963
DESROSIERS, Albemie J
1930 - 2012
DESROSIERS, Catherine M
1931 - 1996
DEVEAU, Cecelia
1895 - 1975
DEVEAU, Eugene
1888 - 1971
DIEMER, Harold V.
1912 - 1972
DIXON, M. Elizabeth
1859 - 1911
DIXON, Margaret
1854 - 1933
DIXON, Mary (Goodall)
1827 - 1880 (age: 53)
DIXON, Nicholas
spouse
DOBSON, Frances A. (Brown)
1881 - 1911
DOLAN, Grace M.
1902 - 1988
DONOVAN, Catherine
1860 - 1926 (age: 66)
DONOVAN, Denis
1867 - 1948
DONOVAN, Joseph P.
? - 1925
DONOVAN, Julia
1830 - 1903 (age: 73)
DONOVAN, Myrtle M.
1893 - 1978
DONOVAN, Patrick
? - 1873