Dungannon Cemetery Company
Street Address: Dungannon Rd
Community: Dungannon
Township: Ashfield Township (Concession 4, Lot 12)
Locality: Huron County
Municipality: Ashfield-Colborne-Wawanosh
Province: Outside CanadaON
GPS: 43.85774,-81.609578


Registered to* Dungannon Cemetery Board.

GENEALOGY RESOURCES (Add / Remove a link)
These links are provided for your convenience and may take you to websites that offer products and/or services for sale. CanadaGenWeb's Cemetery Project does not control the content offered - take note of our site design, if it changes you've left this website!
On the Internet

Not on the internet
SOURCES / THANKS







Photos courtesy of Gary Schumacher [2008], Additions from Dave Cowan [2012], Cheryl Cronin [2012, 2014], Joanne Bushell [2013], Carolyn Mackie [2013], Meg Tyler-Lane [2014]
Indexed by Jeanette Pentland & Beth Victor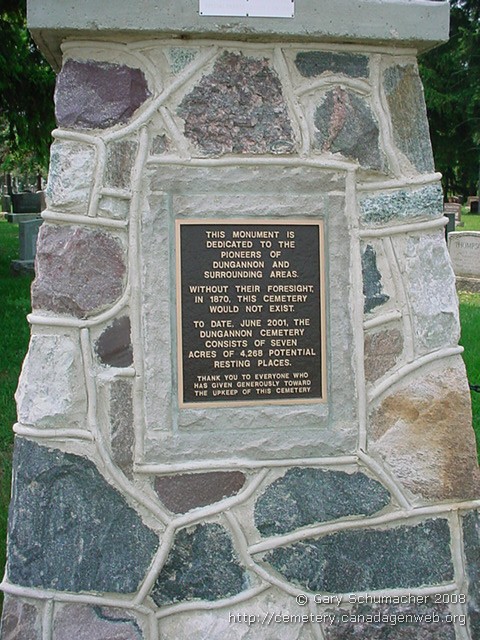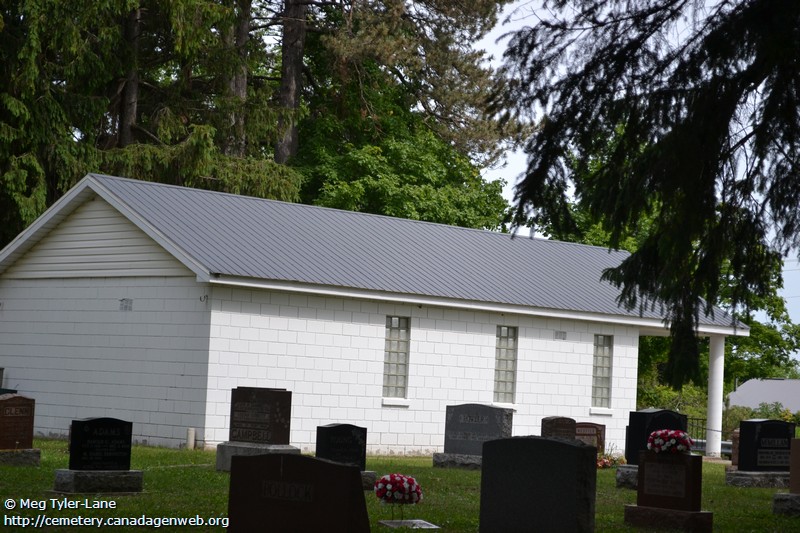 This index represents ALL visible headstones still in existence at the time this cemetery was visited
A B C D E F G H I J K L M N O P Q R S T U V W X Y Z All
- All persons named in this index may not be interred in this cemetery. Some are designated as spouse or parent on appropriate stones, and may not have their own birth and death recorded here (FAQ).
- Women, if maiden names are known, will appear under both their maiden and married names.
Name
Born - Died (Age)
TACKABERRY
? - 1875
TACKABERRY, Benjamin
1857 - 1924 (age: 67)
TACKABERRY, Elizabeth
? ? (age: 90)
TACKABERRY, Esther
1852 - 1938 (age: 86)
TACKABERRY, Joseph
? ? (age: 78?)
TACKABERRY, Margaret
1864 - 1936 (age: 72)
TACKABERRY, Mary H (Armstrong)
1854 - 1921 (age: 67)
TACKABERRY, Sarah (Sherwood)
1838 - 1897 (age: 59)
TACKABERRY, William G
1874 - 1877 (age: 3)
TAGART, Sarah
1824 - 1890 (age: 66)
TAYLOR, A. Elizabeth (McPhee)
1916 - 1966 (age: 50)
TAYLOR, Agnes
parent
TAYLOR, Albert L.
1911 - 1999 (age: 88)
TAYLOR, Albert L.
1911 - 1999
TAYLOR, Bernard C.
1921 - 1953 (age: 32)
TAYLOR, Catherine
1881 - 1959 (age: 78)
TAYLOR, Catherine B. (Reid)
1918 - 2010
TAYLOR, Catherine B. (Reid)
1918 - 2010
TAYLOR, Dorothy
1948 - 1999 (age: 51)
TAYLOR, Dorothy
1948 - 1999
TAYLOR, Dorothy H.
1913 - 2002 (age: 89)
TAYLOR, Eliza
1809 - 1844 (age: 35)
TAYLOR, Eliza
1804 - 1844 (age: 40)
TAYLOR, Frederick T.
1875 - 1954 (age: 79)
TAYLOR, Harriet Ann (Dodd)
spouse
TAYLOR, Hazel R.
1921 - 2005 (age: 84)
TAYLOR, Herbert A.
1908 - 1996 (age: 88)
TAYLOR, James
? ? (age: 68)
TAYLOR, James
parent
TAYLOR, John
1851 - 1921 (age: 70)
TAYLOR, John
1802 - 1879 (age: 77)
TAYLOR, John
1800 - 1878 (age: 78)
TAYLOR, Lewis
1882 - 1924 (age: 42)
TAYLOR, Margaret (Johnston)
1853 - 1935 (age: 82)
TAYLOR, Margaret J.
1893 - 1973 (age: 80)
TAYLOR, Margaret Louisa
1891 - 1927 (age: 36)
TAYLOR, Margret
? - 18?3 (age: 7)
TAYLOR, May (Draisey)
1878 - 1933 (age: 55)
TAYLOR, Pearl (Lawlor)
1912 - 1989 (age: 77)
TAYLOR, Reta P. (Wood)
1914 - 2000 (age: 86)
TAYLOR, Stuart C.
1908 - 2000 (age: 92)
TAYLOR, T. Harrison
1911 - 1988 (age: 77)
TAYLOR, Thomas B
1873 - 1948 (age: 75)
TAYLOR, Wilda Isabel
? - 1976
TAYLOR, William J
1856 - 1901 (age: 45)
TAYLOR, William Ross
1888 - 1946 (age: 58)
THAIN
(Living)
THAIN, Albert Urquhart
1901 - 1951 (age: 50)
THAIN, Alexander Angus
1930 - 2014
THAIN, Margaret Mae (MacDiarmid)
1897 - 1978 (age: 81)
THOMAS, Lois Kathleen (Webster)
1937 - 2007
THOMPSON, (infant son)
1930 - 1930
THOMPSON, Ada P (Bellas)
1907 - 1969 (age: 62)
THOMPSON, Alice
1908 - 1916 (age: 8)
THOMPSON, Annie (Curran)
1847 - 1923 (age: 76)
THOMPSON, Arthur E
1895 - 1962 (age: 67)
THOMPSON, Beatrice
? - 1939
THOMPSON, Donald E. U.
1912 - 1974 (age: 62)
THOMPSON, Edith A (Morgridge)
1902 - 1995 (age: 93)
THOMPSON, Eliza A. (Spence)
1840 - 1926 (age: 86)
THOMPSON, Elizabeth
1841 - 1931 (age: 90)
THOMPSON, Elva M (Robinson)
1900 - 1983 (age: 83)
THOMPSON, Florence (Martin)
1872 - 1950 (age: 78)
THOMPSON, H. Russell
1905 - 1970 (age: 65)
THOMPSON, Hannah M
1897 - 1983 (age: 86)
THOMPSON, J Gormley
1898 - 1979 (age: 81)
THOMPSON, J. Howard
1921 - 2003 (age: 82)
THOMPSON, John A.
1903 - 1960 (age: 57)
THOMPSON, John R
1897 - 1957 (age: 60)
THOMPSON, John T.
1875 - 1877 (age: 2)
THOMPSON, John T.
1831 - 1900 (age: 69)
THOMPSON, John William Hugh
1972 - 2006 (age: 34)
THOMPSON, Joseph C
1900 - 1994 (age: 94)
THOMPSON, Lucy Evelyn
1907 - 1991 (age: 84)
THOMPSON, M. Marion
1913 - 1994 (age: 81)