Street Address: 35424 Huron Rd
Community: Goderich
Township: Goderich Township (Concession MT, Lot 4)
Locality: Huron County
Municipality: Goderich
Province: Outside CanadaON
GPS: 43.731123,-81.680878


Registered to* Town of Goderich. Opened in 1859, some of the first burials were re-interments sent from the Canada Company cemetery. In use 1837-1896.

GENEALOGY RESOURCES (Add / Remove a link)
These links are provided for your convenience and may take you to websites that offer products and/or services for sale. CanadaGenWeb's Cemetery Project does not control the content offered - take note of our site design, if it changes you've left this website!
On the Internet

Not on the internet
SOURCES / THANKS







Photos courtesy of Gary Schumacher [2008]. Additions from Karen Webster [2012], Lynda Fox [2013], Tom Manderson [2014], Meg Tyler-Lane [2014, 2015], Helen Robinson [2016]
Indexed by Alison Mitchell-Reid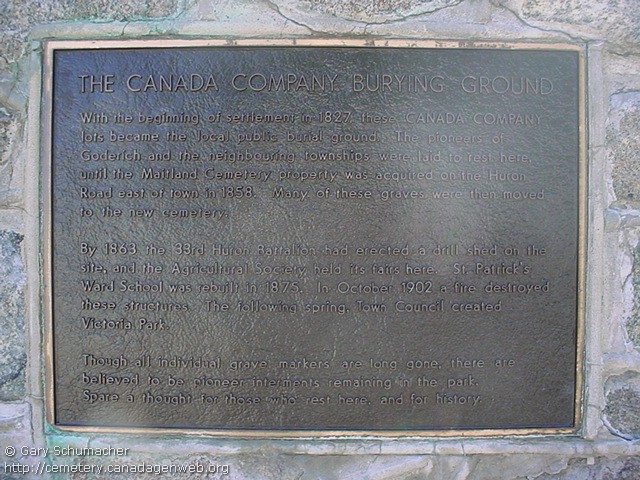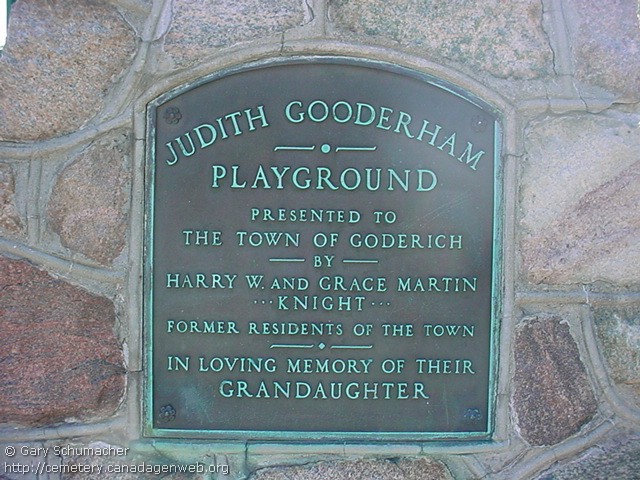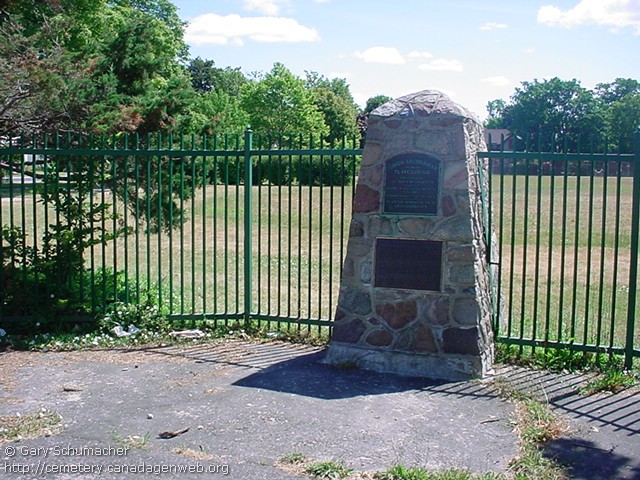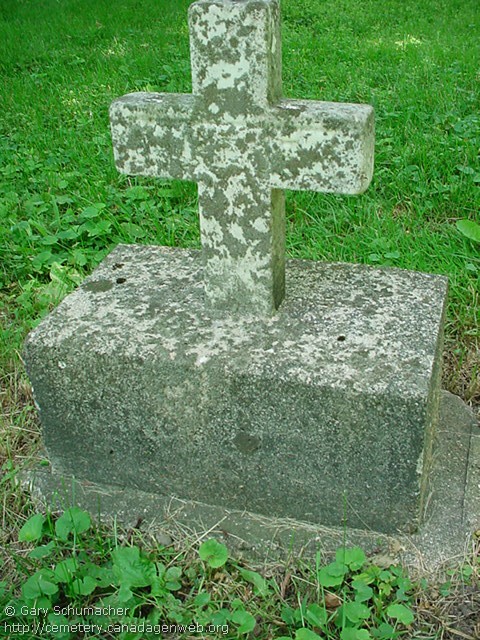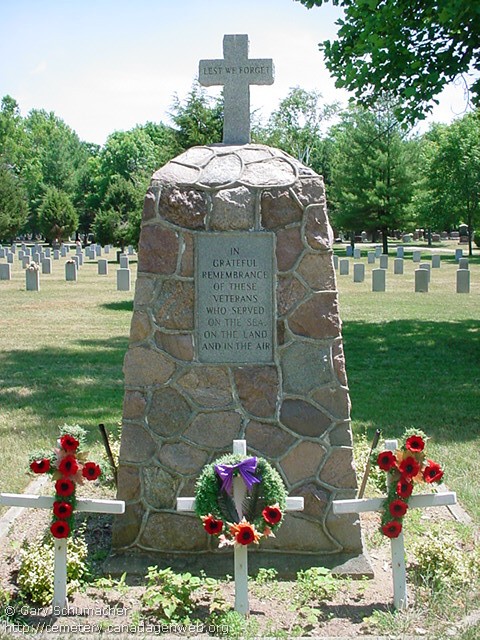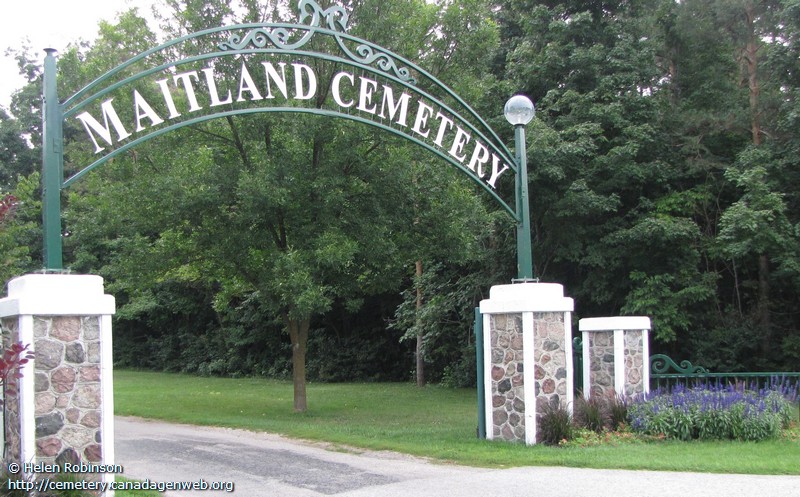 This index represents ALL visible headstones still in existence at the time this cemetery was visited
A B C D E F G H I J K L M N O P Q R S T U V W X Y Z All
- All persons named in this index may not be interred in this cemetery. Some are designated as spouse or parent on appropriate stones, and may not have their own birth and death recorded here (FAQ).
- Women, if maiden names are known, will appear under both their maiden and married names.
Name
Born - Died
BETTGER, Harold Walter
spouse
BETTGER, Jean Mariel (Leary)
1914 - 1995 (age: 81)
BETTGER, Lloyd Milton
1912 - 1951 (age: 39)
BETTGER, Milton
parent
BETTGER, Milton
1884 - 1968 (age: 84)
BETTGER, Milton E
spouse
BETTGER, Ruth Louise
spouse
BETTGER / WALKER, Ruth Louise
1908 - 2006 (age: 98)
BETTLES, Elma
1891 - 1989 (age: 98)
BETTLES, Ethel (Mcilwain)
1898 - 1989 (age: 91)
BETTLES, Jennie (Mcilwain)
1896 - 1963 (age: 67)
BETTLES, Jessie M (Morgan)
1862 - 1958 (age: 96)
BETTLES, Theron
1893 - 1984 (age: 91)
BETTLES, Theron
spouse
BETTLES, Thomas S
1857 - 1934 (age: 77)
BEVINS, Eugene
spouse
BEVINS, Maria L (Elder)
1890 - 1968 (age: 78)
BICHAN, Isabella M (Armstrong)
1864 - 1934 (age: 70)
BICHAN, William
1854 - 1915 (age: 61)
BICHAN, William Ewart
1897 - 1898 (age: 1)
BICKNELL, Ada (Sheen)
1887 - 1969 (age: 82)
BICKNELL, Job
1893 - 1956 (age: 63)
BIDDULPH, Marianne
1854 - 1945 (age: 91)
BIGGAR, Nettie
1890 - 1968 (age: 78)
BIGGS, John
spouse
BIGGS, Lily Mary
1863 - 1944 (age: 81)
BILLINGS, Celia
1887 - 1963 (age: 76)
BILLINGS, Ida May
1890 - 1957 (age: 67)
BILLINGTON, Samuel E
? - 1943
BILSTRA, Aafke (Bloem)
1909 - 1968 (age: 59)
BILSTRA, Peter
1911 - 1986 (age: 75)
BINGHAM, Frank Edwin
1879 - 1965 (age: 86)
BIRD, Elizabeth
1865 - 1955 (age: 90)
BIRD, Hannah
spouse
BIRD, Hannah
1815 - 1903 (age: 88)
BIRD, John E
? - 1943
BIRD, Joseph W
? ? (age: 47)
BIRD, William
1874 - 1928 (age: 54)
BIRKIE, Catharine
1862 - 1931 (age: 69)
BIRNIE, Alexander
1849 - 1899 (age: 50)
BIRNIE, Bella (Duncan)
1825 - 1899 (age: 74)
BIRNIE, James
spouse
BIRNIE, James, Jr.
1855 - 1886 (age: 31)
BIRNIE, Martha J (Reid)
1865 - 1891 (age: 26)
BIRNIE, Mary Jane (Neal)
1864 - 1955 (age: 91)
BIRNIE, William H
1856 - 1948 (age: 92)
BISHOP, Ada A (Halliwell)
1886 - 1963 (age: 77)
BISHOP, Frederick J
1868 - 1922 (age: 54)
BISHOP, Melissa Mae Christabel (Gloyn)
1907 - 1995 (age: 88)
BISHOP, Russell F
1911 - 1952 (age: 41)
BISHOP, W H
1884 - 1968 (age: 84)
BISHOP-SMITH, Flora Sophia
1872 - 1934 (age: 62)
BISSET, Catharine
parent
BISSET, Charles E
1885 - 1953 (age: 68)
BISSET, Christena
1849 - 1927 (age: 78)
BISSET, Clara Jane
1875 - 1912 (age: 37)
BISSET, Constant L
1883 - 1955 (age: 72)
BISSET, Ella May (Moore)
1886 - 1982 (age: 96)
BISSET, George
spouse
BISSET, George
1852 - 1920 (age: 68)
BISSET, George Robert
1880 - 1894 (age: 14)
BISSET, Isabel S
1888 - 1958 (age: 70)
BISSET, James
parent
BISSET, James N
1845 - 1854 (age: 9)
BISSET, Maud A
1878 - 1953 (age: 75)
BISSET?, Elizabeth (Black)
1863 - 1917 (age: 54)
BISSETT, Charles E
1885 - 1953 (age: 68)
BISSETT, Charles E
spouse
BISSETT, Christina
1812 - 1895 (age: 83)
BISSETT, Constant L
1883 - 1955 (age: 72)
BISSETT, Constant Stanley
1946 - 1962 (age: 16)
BISSETT, Edith Audrey (Telford)
1922 - 1989 (age: 67)
BISSETT, Edward G "Ted"
1911 - 1987 (age: 76)
BISSETT, Elizabeth (Newcombe)
spouse
BISSETT, Elizabeth (Newcombe)
1886 - 1966 (age: 80)