Street Address: 17 Line
Community: Hensall
Township: Usborne Township (Concession 6, Lot 30)
Locality: Huron County
Municipality: South Huron
Province: Outside CanadaON
GPS: 43.422676,-81.441749


Registered to* McTaggart's Cemetery Board.

GENEALOGY RESOURCES (Add / Remove a link)
These links are provided for your convenience and may take you to websites that offer products and/or services for sale. CanadaGenWeb's Cemetery Project does not control the content offered - take note of our site design, if it changes you've left this website!
On the Internet

Not on the internet
SOURCES / THANKS







Photos courtesy of Lorna Eggert [2010]
Indexed by Lorna Eggert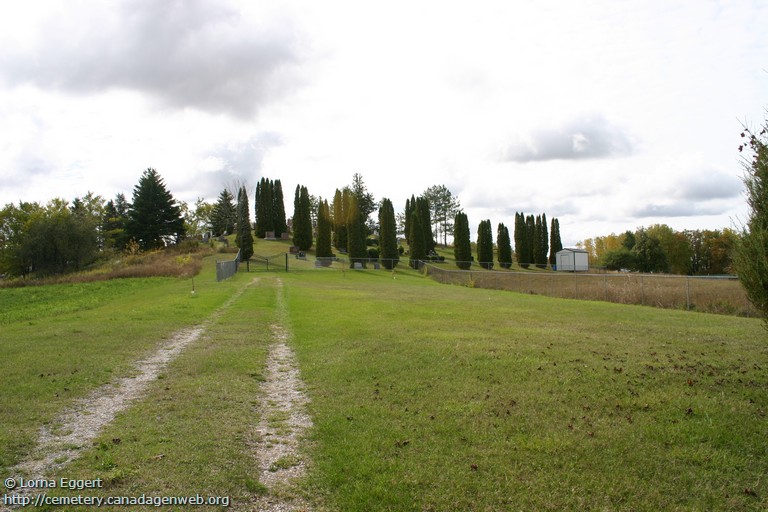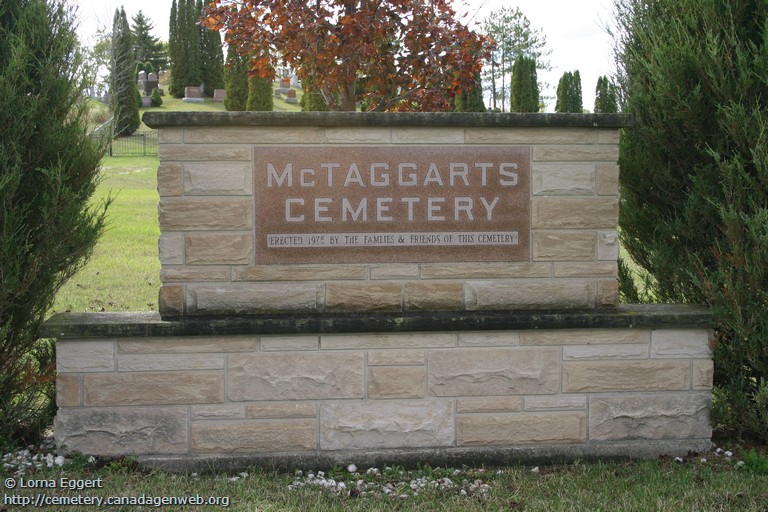 This index represents ALL visible headstones still in existence at the time this cemetery was visited
A B C D E F G H I J K L M N O P Q R S T U V W X Y Z All
- All persons named in this index may not be interred in this cemetery. Some are designated as spouse or parent on appropriate stones, and may not have their own birth and death recorded here (FAQ).
- Women, if maiden names are known, will appear under both their maiden and married names.
Name
Born - Died (Age)
?, Sarah Elizabeth
? ?
AIRTH, Ann
parent
AIRTH, James
parent
AIRTH, John
1878 - 1881 (age: 3)
ALEXANDER, (living) (Livingston)
1931
ALEXANDER, A.
parent
ALEXANDER, Agnes (Gibson)
1846 - 1938 (age: 92)
ALEXANDER, Alvin Leverne
1907 - 1926
ALEXANDER, Beverly
1930 - 2001 (age: 71)
ALEXANDER, Charles
1876 - 1950 (age: 76)
ALEXANDER, Charlotte (Stewart)
1837 - 1908 (age: 71)
ALEXANDER, D.
parent
ALEXANDER, David M.
1870 - 1931
ALEXANDER, Edmund Lorne
1905 - 1985 (age: 80)
ALEXANDER, Ethel Maud (Stewart)
1907 - 1988 (age: 81)
ALEXANDER, John
1830 - 1909 (age: 79)
ALEXANDER, Margaret
1870 - 1937 (age: 67)
ALEXANDER, Nancy
1828 - 1867 (age: 39)
ALEXANDER, Robert
1825 - 1912 (age: 87)
ANDERSON, Jessie
1867 - 1937 (age: 70)
ANGELL, Flora A.
1888 - 1977 (age: 89)
BARR, Jannet
1825 - 1892 (age: 67)
BELL, Agnes (Clark)
1861 - 1937
BELL, David
1868 - 1871 (age: 3)
BELL, E.
parent
BELL, Ethel
1892 - 1981
BELL, John
1814 - 1895 (age: 81)
BELL, John M.
1884 - 1956
BELL, Mary
1834 - 1877 (age: 43)
BELL, R.
parent
BELL, Robert
1861 - 1934
BELL, Robert
1842 - 1876 (age: 49)
BELL, Vera A.
1899 - 1984
BELL, William
1826 - 1882 (age: 56)
BERRY, Anna
1870 - 1946
BERRY, Thomas J.
1854 - 1922
BERRY, Thomas J.
1854 - 1922
BERRY, Wilson
1900 - 1970
BOA, Andrew A.
1920 - 1939 (age: 19)
BOA, Ellen (Brintnell)
1858 - 1925
BOA, Maggie (Latta)
1884 - 1954
BOA, Malcom R.
1926 - 1997
BOA, Margaret
1886 - 1954
BOA, Margaret
1857 - 1887 (age: 30)
BOA, Mary Anna (Petrimoulx)
1907 - 1978 (age: 71)
BOA, Maud (Brintnell)
1887 - 1908 (age: 21)
BOA, Paul
1859 - 1917
BOA, Paul
1888 - 1938
BOA, Paul E.
1915 - 1970
BOA, William
spouse
BOA, William J.
1882 - 1968
BOA, William John
1887 - 1902 (age: 15)
BOA, William Maurice
1908 - 1971 (age: 63)
BOA, William, Jr.
spouse
BOLTON, Abraham
1850 - 1930 (age: 80)
BOLTON, George
1843 - 1886 (age: 43)
BOLTON, Henry Gordon
1876 - 1941 (age: 65)
BOLTON, John Andrew
1879 - 1947 (age: 68)
BOLTON, Maria Josephine (Ford)
1878 - 1960 (age: 82)
BOLTON, Mary
1856 - 1939 (age: 83)
BOLTON, Mary Ellen (Ford)
1876 - 1944 (age: 68)
BOLTON, Mary Rebecca
1904 - 1918
BOULTON, Abraham
1748 - 1850 (age: 102)
BOULTON, Abraham
1810 - 1905 (age: 94)
BOULTON, Edward
1860 - 1860
BOULTON, George
no dates
BOULTON, Mary (Elliot)
1771 - 1866 (age: 95)
BOULTON, Mary (Simmons)
1826 - 1861 (age: 35)
BOULTON, Samuel
1813 - 1878 (age: 65)
BOULTON, Samuel
no dates
BOULTON, William Henry
1844 - 1862 (age: 18)
BOWERMAN, Adam H.
1850 - 1876 (age: 26)
BOWERMAN, Ellenor
1847 - 1878 (age: 31)
BOWERMAN, Ichabod
parent
BOWERMAN, Ichabod
spouse