Street Address: 1963 Woodhull Rd
Community: London
Township: Delaware Township (BF, Lot 6)
Locality: Middlesex County
Municipality: Middlesex Centre
Province: Outside CanadaON
GPS: 42.958380,-81.379413


Registered to* City of London. From Miriam Davidson: I have seen photographs, in the C of E church down the road from this cemetery, of a Quaker meeting house that was once at the very back of this cemetery. It has very long since vanished, I don't believe there are any traces at all of it's existence. From Delaware & Westminster Townships Honouring Our Roots: "This cemetery was originally located on the Woodhull farm but was established as a public burial site." "In 1951 access was only possible through Clinton Woodhull's farmyard. Feeling that the right-of-way might be closed by some future occupant of the farm, Mr. Woodhull sold the strip of land to the township to resolve this problem. In 1952, this cemetery was deeded by the trustees to the Twp of Delaware." Established 1830.

GENEALOGY RESOURCES (Add / Remove a link)
These links are provided for your convenience and may take you to websites that offer products and/or services for sale. CanadaGenWeb's Cemetery Project does not control the content offered - take note of our site design, if it changes you've left this website!
On the Internet

Not on the internet
SOURCES / THANKS
Miriam Davidson
Delaware and Westminster Townships: Honouring Our Roots, published by The Westminster Township Historical Society, ISBN 0-9781538-0-4






Photos courtesy of Alison Mitchell-Reid [2010], Addition from Kate Ford [2015]
Indexed by Alison Mitchell-Reid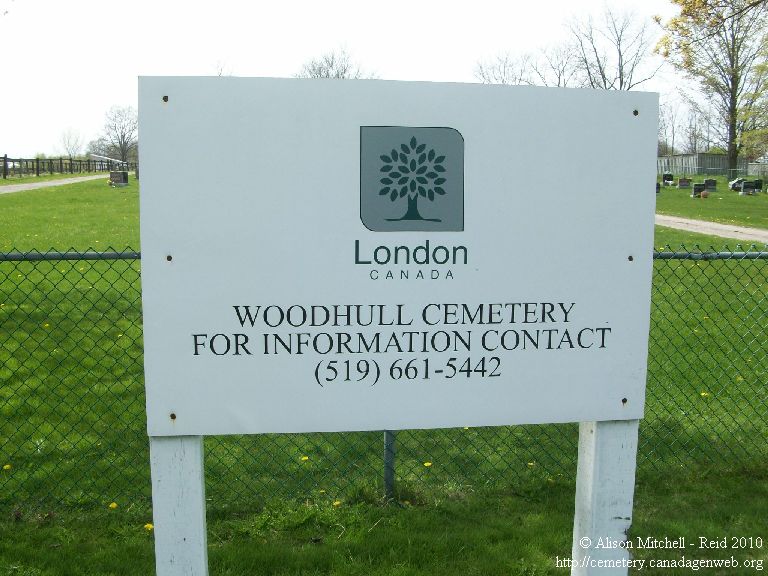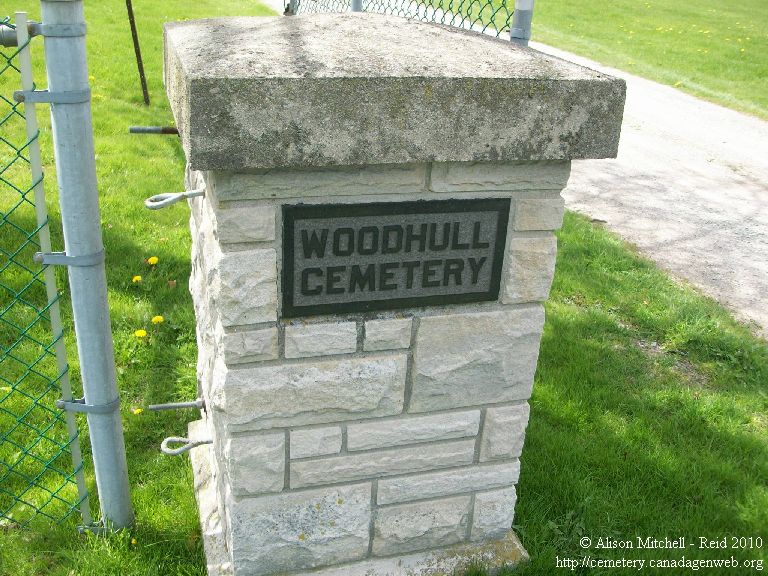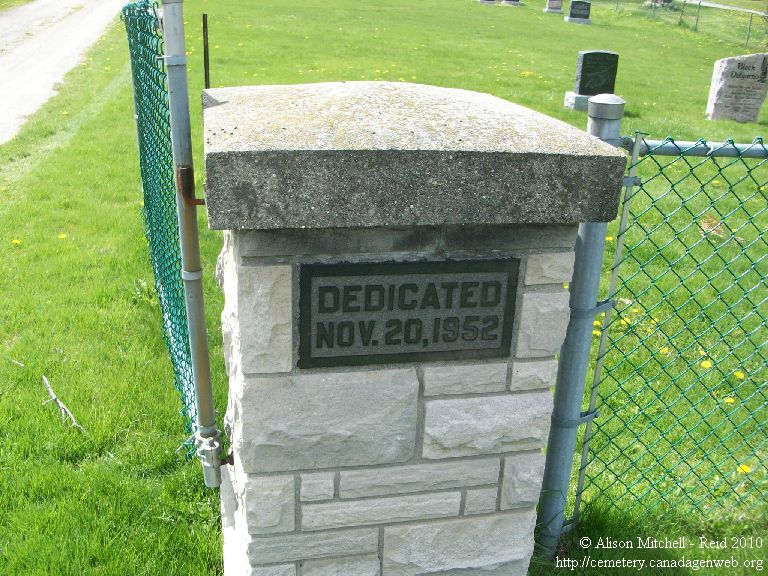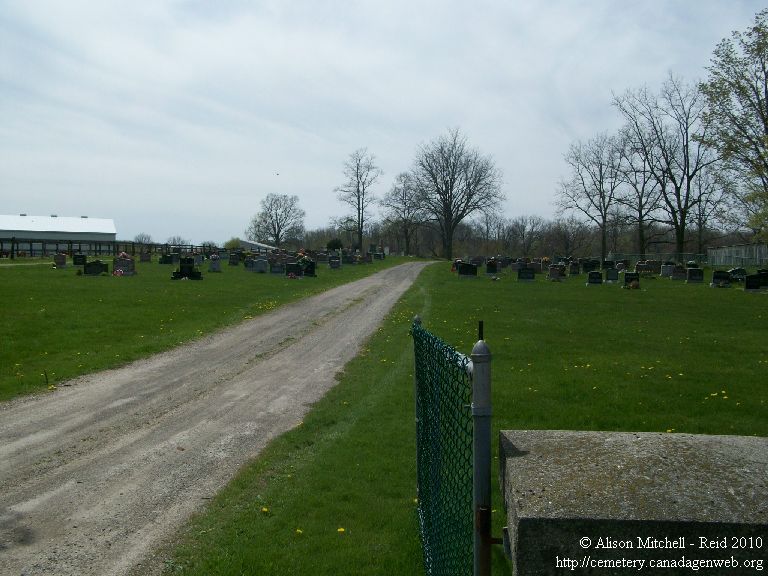 This index represents ALL visible headstones still in existence at the time this cemetery was visited
A B C D E F G H I J K L M N O P Q R S T U V W X Y Z All
- All persons named in this index may not be interred in this cemetery. Some are designated as spouse or parent on appropriate stones, and may not have their own birth and death recorded here (FAQ).
- Women, if maiden names are known, will appear under both their maiden and married names.
Name
Born - Died (Age)
(unreadable)
1863 - 1869 (age: 6)
?, Minnie M
? ?
ADAIR, Florence A (Burgess)
1913 - 1974 (age: 61)
ADAIR, Mildred M
1913 - 2001 (age: 88)
ADAIR, Ross S
1905 - 1977 (age: 72)
ADAIR, Wilfred Clinton
1904 - 1972 (age: 68)
ADAMS, James A
1919 - 1999 (age: 80)
ADAMS, Manley
1912 - 2003 (age: 91)
ADAMTHWAITE, Jennifer Lyn
1973 - 1993 (age: 20)
ADAMTHWAITE, Lynda Elizabeth "Lyn"
1947 - 1998 (age: 51)
ADKIN, Lyle C
1926 - 2001 (age: 75)
ADKIN, Simone
1927 - 1985 (age: 58)
AITKEN, Donald
1906 - 1989 (age: 83)
AITKEN, Marjorie
1936 - 2006 (age: 70)
AITKEN, Mary E
1906 - 1973 (age: 67)
ALLEN
(Living)
ALLEN, Carl N
1920 - 1978 (age: 58)
ALLEN, Daniel A
1955 - 1973 (age: 18)
ALLEN, Ella E
1887 - 1959 (age: 71)
ALLEN, Eugenia (McIntyre)
1922 - 2007 (age: 85)
ALLEN, Glen Russell
? ?
ALLEN, H Marjory
1916 - 2005 (age: 89)
ALLEN, Harry M
1889 - 1963 (age: 74)
ALLEN, Hazel
1920 - 1999 (age: 79)
ALLEN, M Jean
1919 - 2004 (age: 85)
ALLEN, Phyllis M
1922 - 1999 (age: 77)
ALLEN, Shirley E
1918 - 2008 (age: 90)
ALLEN, Steven Walden
1956 - 1999 (age: 43)
ALLEN, Steven Walden
1956 - 1999 (age: 43)
ALLISON, Eva May
1915 - 1979 (age: 64)
ALLISON, George
1914 - 1986 (age: 72)
ARCHER, Herbert Allen
1931 - 2007 (age: 76)
ARNOLD, Agnes May
1879 - 1961 (age: 82)
AXFORD, Ellis Winston
1912 - 1997 (age: 85)
AXFORD, Ida
1879 - 1921 (age: 42)
AXFORD, Velma M
1915 - 1978 (age: 63)
AXFORD, Velma M (Cudney)
1915 - 1978 (age: 63)
BACKS, Hans Jochen
1956 - 1987 (age: 31)
BAKER
(Living)
BAKER, Alan James
1926 - 1999 (age: 73)
BAKER, Nancy Marion
1958 - 1979 (age: 21)
BALL, John T
1944 - 2005 (age: 61)
BALL, Reta May
1922 - 2009 (age: 87)
BANCROFT, Marrien E
1931 - 2008 (age: 77)
BARBER, Olive
1899 - 1986 (age: 87)
BARLOW, Burt
1925 - 1980 (age: 55)
BARLOW, Elizabeth
1930 - 2005 (age: 75)
BARNEY, Harold W
1931 - 2007 (age: 76)
BARNEY, Phyllis D (Clarke)
1927 - 2009 (age: 82)
BARTLETT, Wilbur R "Slim"
1924 - 1982 (age: 58)
BARTON, Hazel M
1925 - 2005 (age: 79)
BARTON, Oliver G
1920 - 2004 (age: 83)
BAUGHMAN, Al
1939 - 2004 (age: 65)
BAUGHMAN, William Arthur
1928 - 2001 (age: 73)
BAYNHAM, Arthur A
1911 - 1991 (age: 80)
BAYNHAM, Edward
1900 - 1981 (age: 80)
BAYNHAM, Ethel
1910 - 1991 (age: 80)
BAYNHAM, Paul T
1936 - 1976 (age: 39)
BEAUPRE, Steven W
1970 - 2001 (age: 31)
BETLEJEWSKI, Edmund
1914 - 1982 (age: 67)
BIGNELL, Marion
1905 - 1994 (age: 89)
BISHOP, Luella E. M.
1923 - 2013
BLACK, Annie (Wright)
1896 - 1985 (age: 89)
BLACK, Edith Agnes
1921 - 2006 (age: 85)
BLACK, Margaret F
1927 - 2005 (age: 78)
BLEWITT, Lottie
1901 - 1985 (age: 84)
BOBIER, James Ripley
1906 - 1969 (age: 62)
BOBIER, Jessie A
1909 - 1993 (age: 83)
BOBIER, St. Clair
1907 - 1977 (age: 70)
BOURNE, James Richard
spouse
BOURNE, Patenice Ellen (Kilbourn)
1862 - 1918 (age: 56)
BOWERING, Dorothy R (Campbell)
1935 - 2003 (age: 68)
BOWERING, Gerald L
1933 - 1998 (age: 65)
BOWERING, Gordon E
1908 - 1995 (age: 87)
BOWERING, Jeffrey Gerald
1959 - 2001 (age: 42)