Bornish St Columba Cemetery
Street Address: 31619 Centre Rd (at Bornish Dr)
Township: West Williams Township (Concession 13, Lot 11)
Locality: Middlesex County
Municipality: North Middlesex
Province: Outside CanadaON
GPS: 43.102714,-81.677771


Church / Denomination: Roman Catholic

Maintained by* R.C.E.C. of Diocese of London. From Donald: Lot 11 Con. 13 was my grandfather's farm 2.75 miles west of this church and cemetery. The church and cemetery are located on the NW corner of Con. 13 and the Centre Rd. (i.e. Bornish Drive and Hwy 81). This error originated when the cemetery transcription was published by OGS London Branch. From West Williams Township: A Proud Heritage: "Around the year 1859 or 1860, a space was consecrated adjacent to the Bornish Catholic Church, and named St. Columba Cemetery. In the intervening years between the establishment of the Old Hill Cemetery and the St. Columba Cemetery, there had been many burials on the hilltop. After the St. Columba Cemetery was established, some of the remains were disinterred and buried in St. Columba Cemetery.".

GENEALOGY RESOURCES (Add / Remove a link)
These links are provided for your convenience and may take you to websites that offer products and/or services for sale. CanadaGenWeb's Cemetery Project does not control the content offered - take note of our site design, if it changes you've left this website!
On the Internet

Not on the internet
SOURCES / THANKS
Donald
West Williams Township: A Proud Heritage published by the Corporation of the Township of West Williams, 1999, ISBN 0-9685565-0-7






Photos courtesy of Alison Mitchell-Reid {2009}
Indexed by Alison Mitchell-Reid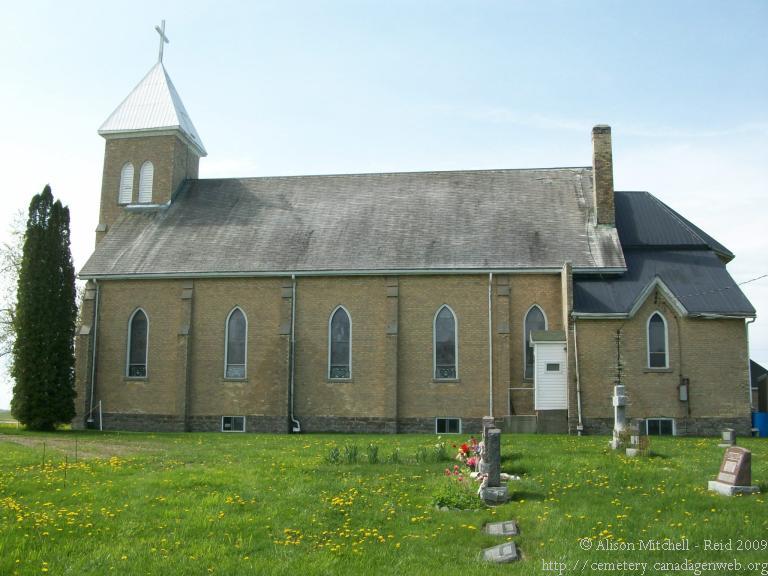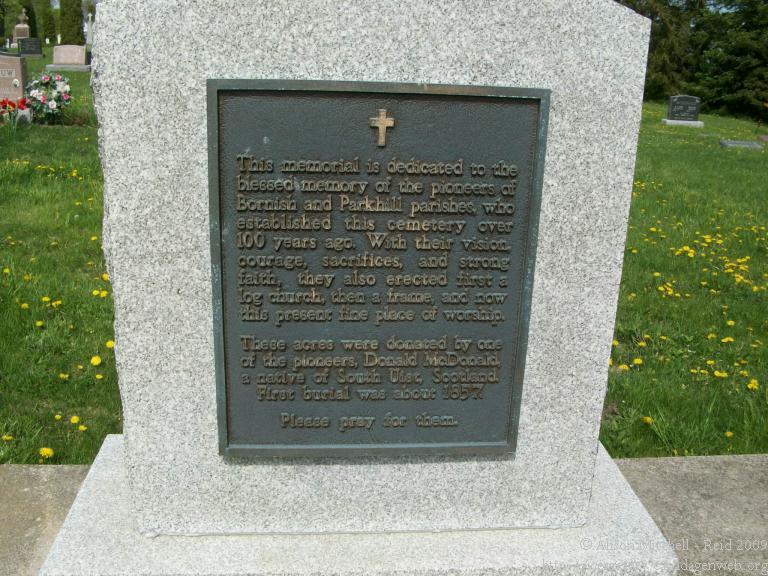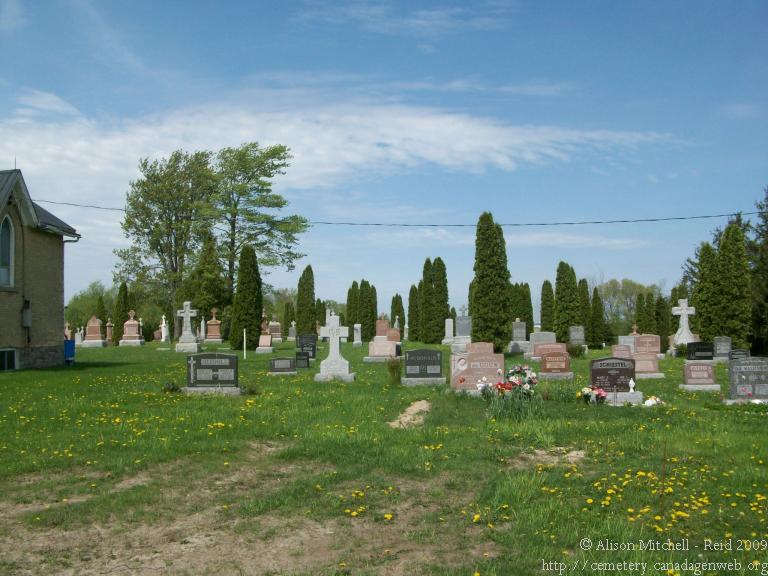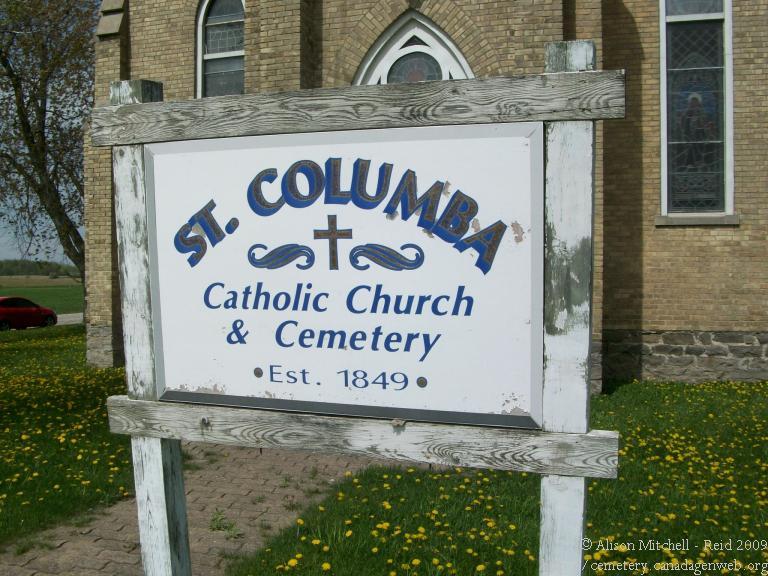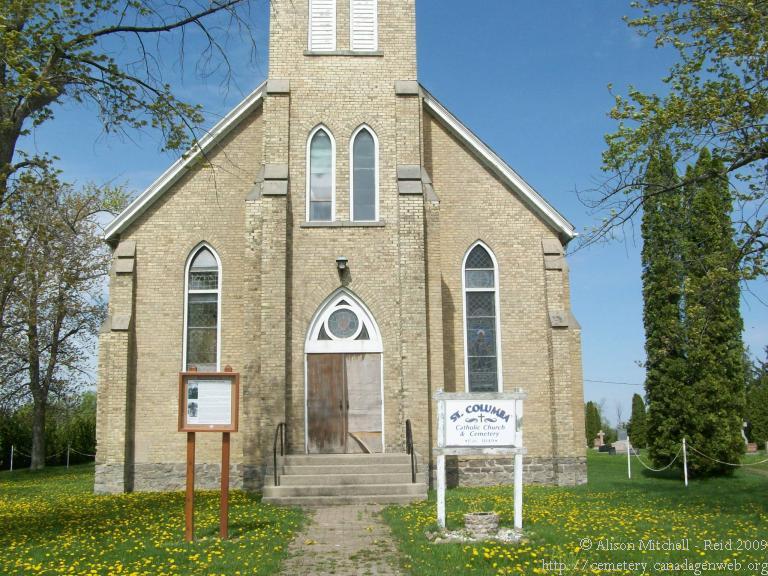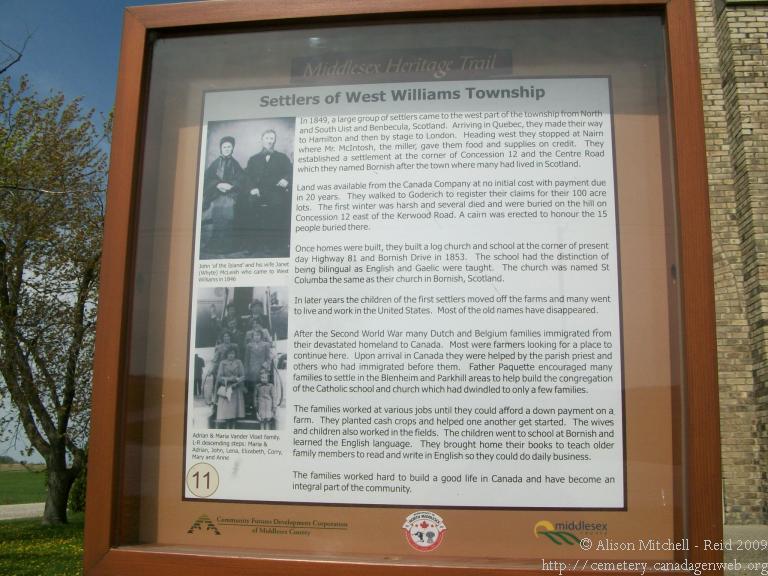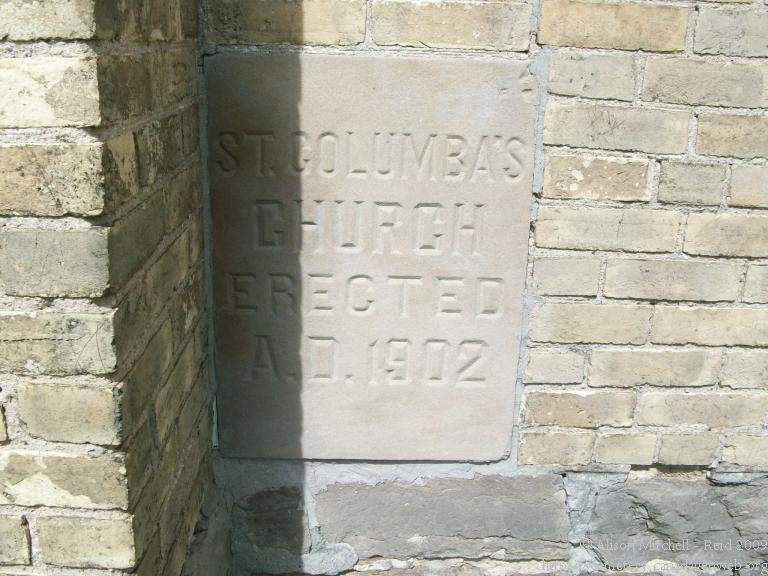 This index represents ALL visible headstones still in existence at the time this cemetery was visited
A B C D E F G H I J K L M N O P Q R S T U V W X Y Z All
- All persons named in this index may not be interred in this cemetery. Some are designated as spouse or parent on appropriate stones, and may not have their own birth and death recorded here (FAQ).
- Women, if maiden names are known, will appear under both their maiden and married names.
Name
Born - Died (Age)
(unreadable)
(unreadable)
(unreadable)
(unreadable)
1836 - 1868 (age: 32)
(unreadable)
(unreadable)
(unreadable)
(unreadable)
(unreadable)
? - 1850
(unreadable)
?, Christy
? ?
ADAMS, Anna
1922 - 1985 (age: 63)
BOUIE, Catherine
1795 - 1870 (age: 75)
BOUSHO, Eleanor K
1902 - 1976 (age: 74)
BURNS, Martin
spouse
BURNS, Mary Ann
1860 - 1891 (age: 31)
CALOVIN, Edward
1809 - 1859 (age: 49)
CALOVIN, James E
1855 - 1899 (age: 44)
CAMERON, ?
1797 - 1869 (age: 72)
CAMERON, Ann
1797 - 1869 (age: 72)
CAMERON, Catharine C
? - 1929
CAMERON, Catherine
? - 1914
CAMERON, Catherine
parent
CAMERON, D
parent
CAMERON, Donald
1836 - 1902 (age: 66)
CAMERON, Donald
parent
CAMERON, Donald
spouse
CAMERON, Donald
spouse
CAMERON, Donald John
1877 - 1901 (age: 24)
CAMERON, E
parent
CAMERON, Effie
1872 - 1913 (age: 41)
CAMERON, John
1829 - 1892 (age: 63)
CAMPBELL, Catherine
1857 - 1902 (age: 45)
CAMPBELL, Flora
1810 - 1900 (age: 90)
CAMPBELL, Joan
1870 - 1946 (age: 76)
CAMPBELL, Malcolm
1862 - 1911 (age: 49)
CHARLY?, Catherine
parent
CHARLY?, John
? - 1872
CHARLY?, John
parent
CHRISTOPHER, Godfrey
parent
CHRISTOPHER, Kenneth P
1961 - 1991 (age: 30)
CHRISTOPHER, Mary
parent
CHRISTOPHER, Mary Eleanor
1931 - 1999 (age: 68)
CLEVELAND, Matilda
1860 - 1902 (age: 42)
CLEVELAND, S
spouse
CLUNEY, ?
parent
CLUNEY, ?
parent
CLUNEY, May? Adline
1879 - 1880 (age: 1)
CONNEL, Elizabeth Cecilia
1827 - 1913 (age: 86)
CONNEL, Peter
1831 - 1914 (age: 83)
CONNELL, Catherine
1834 - 1880 (age: 46)
CONNELL, James
1831 - 1908 (age: 77)
CONNELL, James
spouse
CURRIE, Annie
1867 - 1888 (age: 21)
CURRIE, Archibald
1824 - 1898 (age: 74)
CURRIE, Archie
parent
CURRIE, Archie
parent
CURRIE, Ronald
1862 - 1894 (age: 32)
CURRIE, Sarah
parent
CURRIE, Sarah
parent
CUSICK, Christopher
spouse
CUSICK, Margaret (Hayes)
1847 - 1901 (age: 54)
DALTON, Hannah
1880 - 1962 (age: 81)
DE GOUW, Lucia A (Kustermans)
1922 - 2007 (age: 85)
DE GOUW, Marinus A
1919 - 2008 (age: 89)
DE GOUW, Mary E
1950 - 2007 (age: 57)
DEVEREAUX, Louise
1897 - 1965 (age: 68)
DIGNAN, Adolphus B
1879 - 1882 (age: 3)
DIGNAN, Alta J
1885 - 1973 (age: 88)
DIGNAN, Anna (McCartney)
1849 - 1920 (age: 71)
DIGNAN, Annie
parent
DIGNAN, B
spouse
DIGNAN, Elizabeth A
1876 - 1876
DIGNAN, George L
1876 - 1951 (age: 75)
DIGNAN, James A P
1882 - 1882