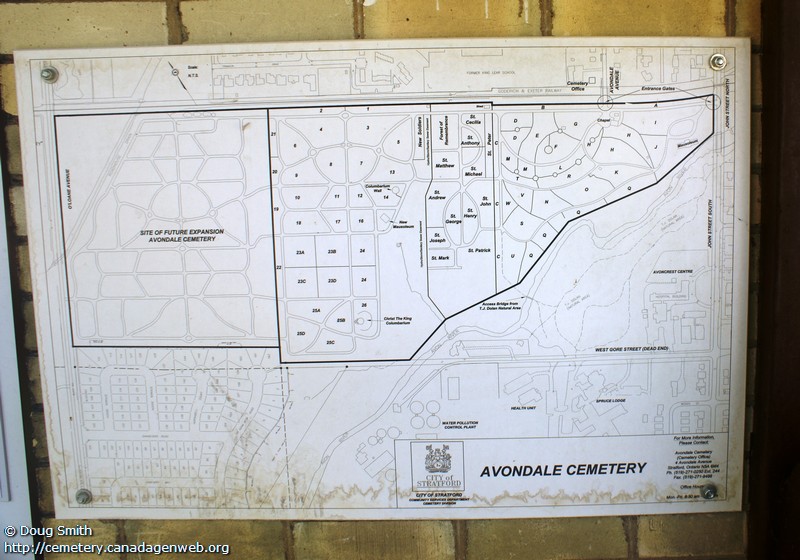 Street Address: 4 Avondale Avenue
Community: Stratford
Township: Downie Township
Locality: Perth County
Municipality: Stratford
Province: ON
GPS: 43.37227,-81.001888

Registered to* City of Stratford.
GENEALOGY RESOURCES (Add / Remove a link)
These links are provided for your convenience and may take you to websites that offer products and/or services for sale.
CanadaGenWeb's Cemetery Project does not control the content offered - take note of our site design, if it changes you've left this website!
On the Internet

CanadaGenWeb's Cemetery Project

(see below!)

Index: City of Stratford
Lookups: Ruth Lang, katolakrta@wightman.ca, I will take digital photos, of grave markers. Weather permitting, and will send by e-mail only, to person who has requested them.
Lookups: Jeff Wilde, jwilde.geo@yahoo.com, Avondale Roman Catholic section, from transcript.
Lookups: Mary Anne Zettler, mzettler@rogers.com, lookups during summer and fall months only digital photos via e-mail only.

Not on the internet
SOURCES / THANKS
---
Photos courtesy of Doug Smith [2014], updated by Alison Mitchell-Reid [2017]. Additions from Patty Robinson, Joy Bowman, John Gould, Ruth Lang
Names contributed by Ron Henderson
Indexed by Alison Mitchell-Reid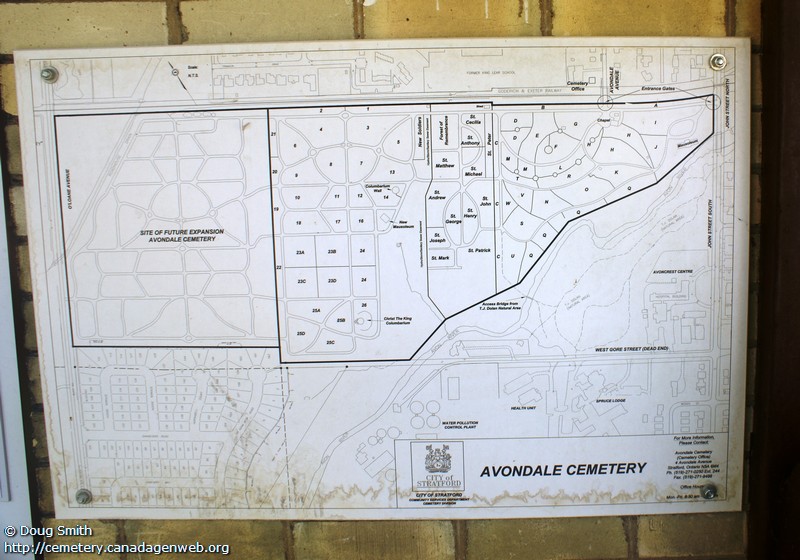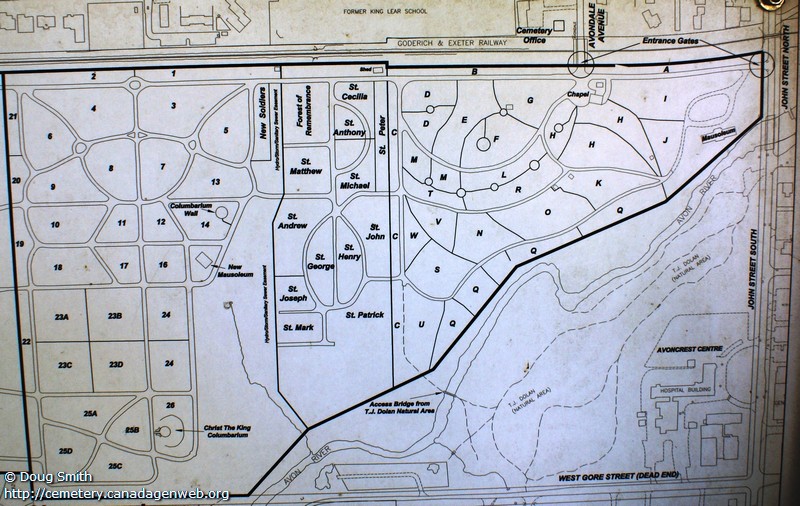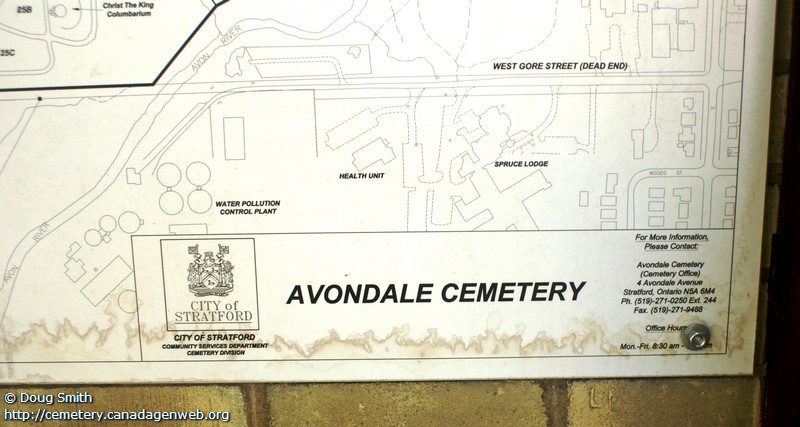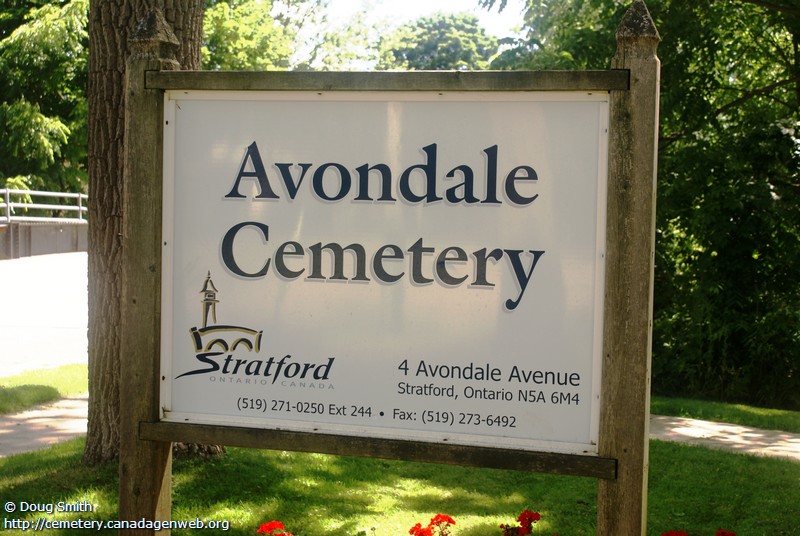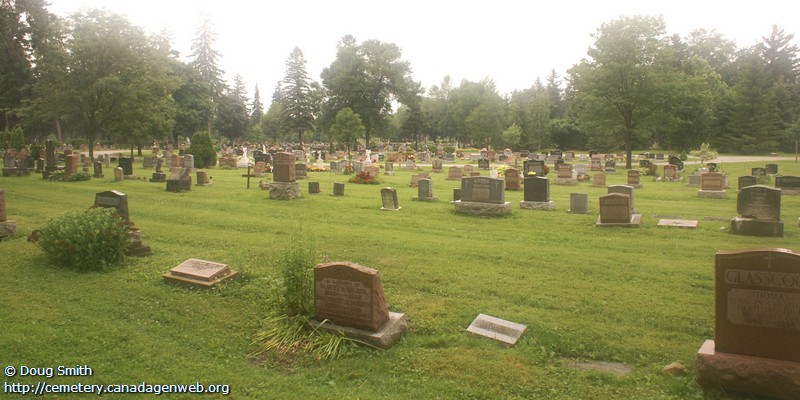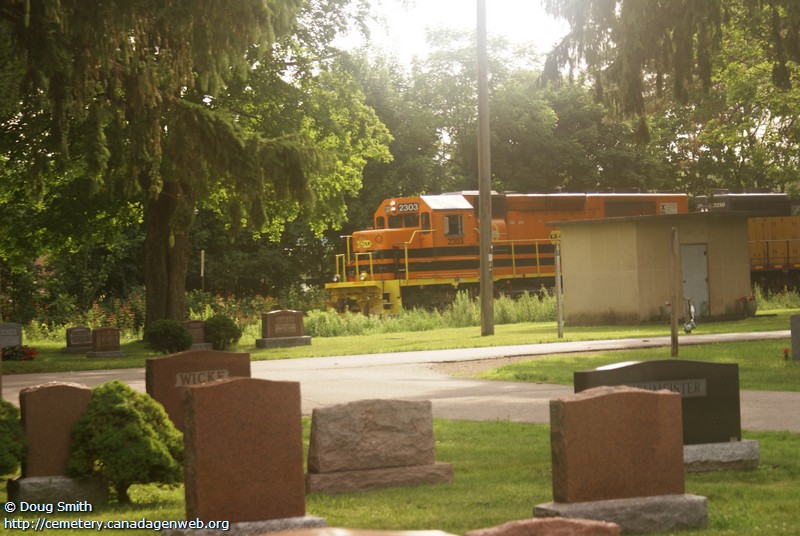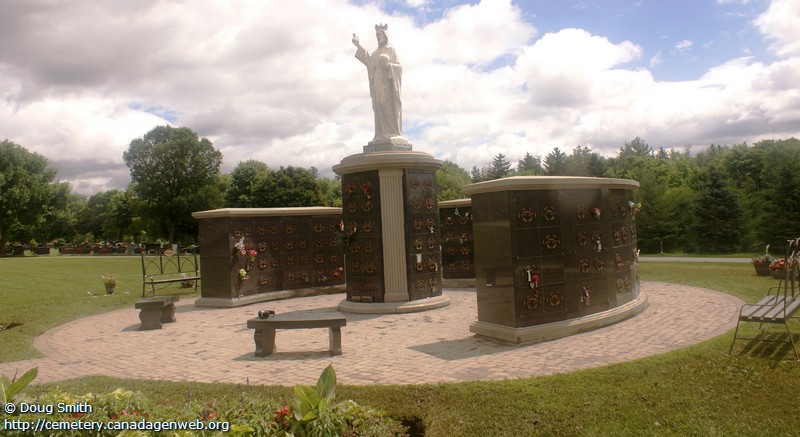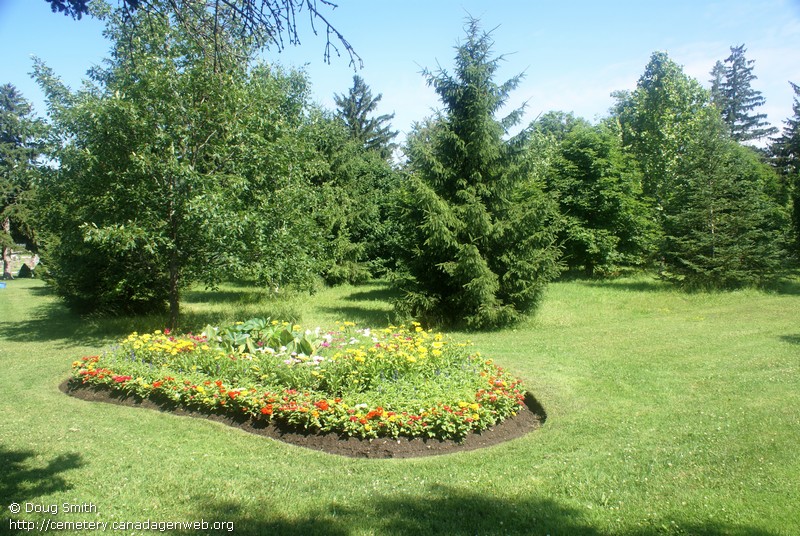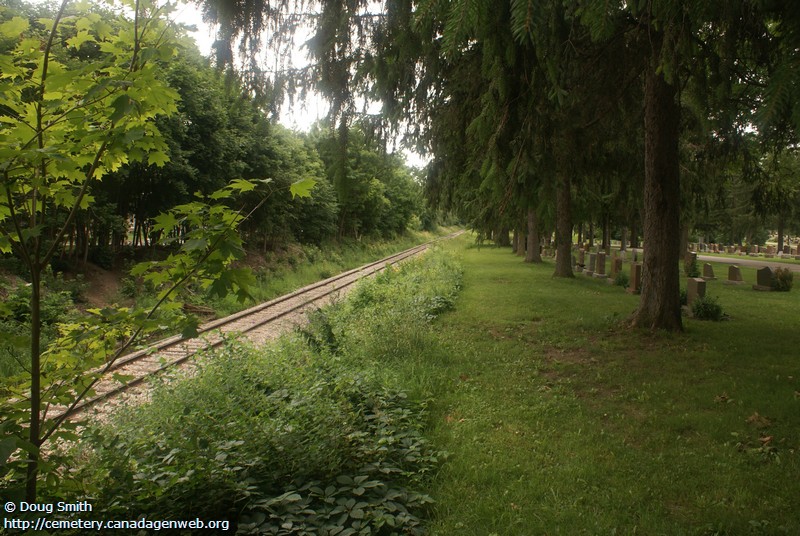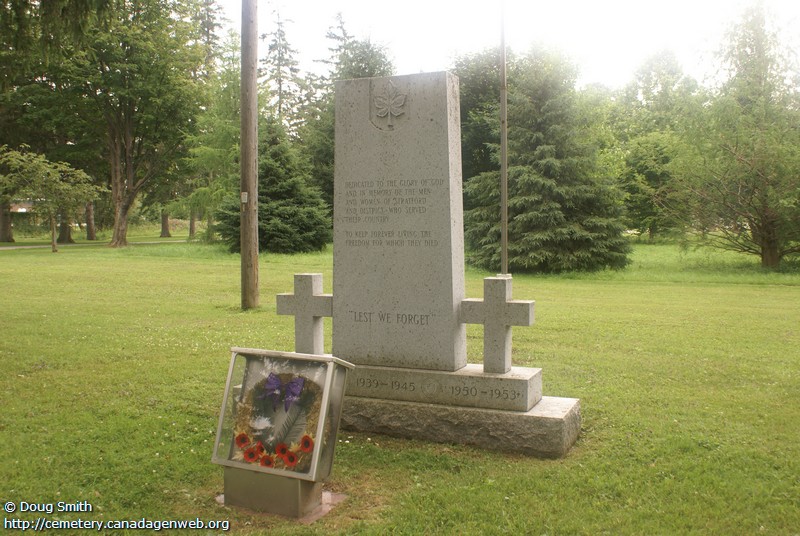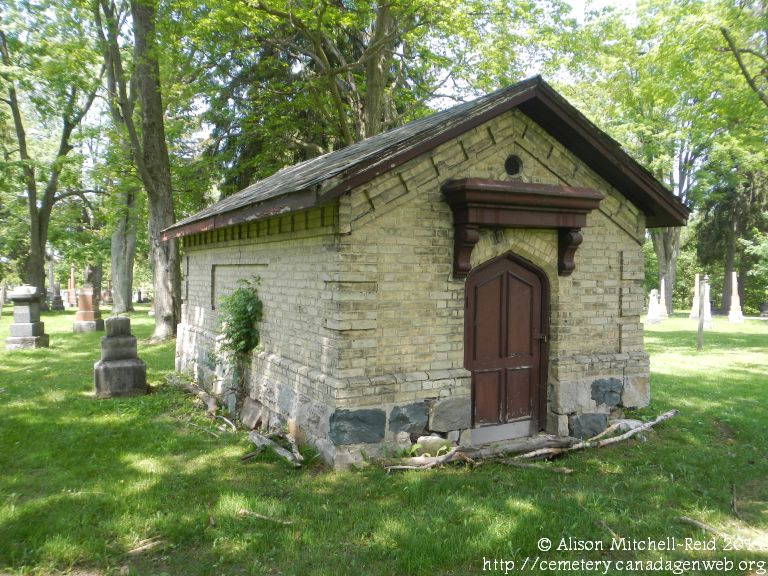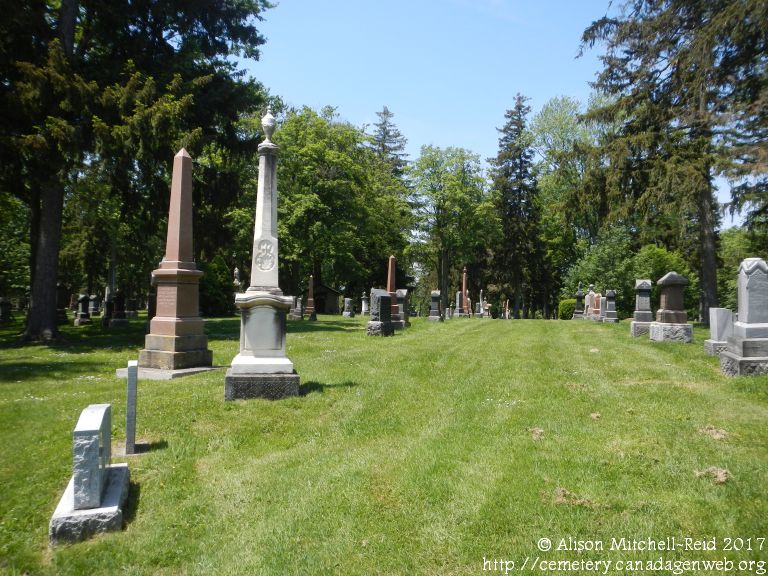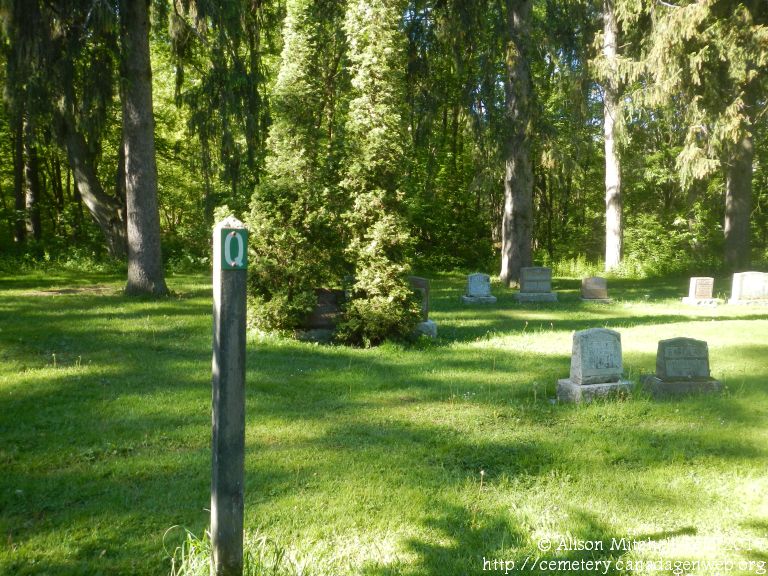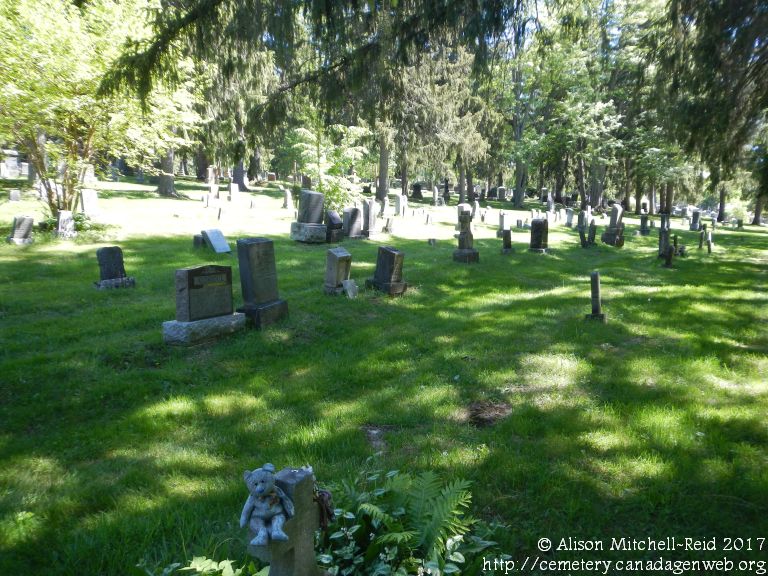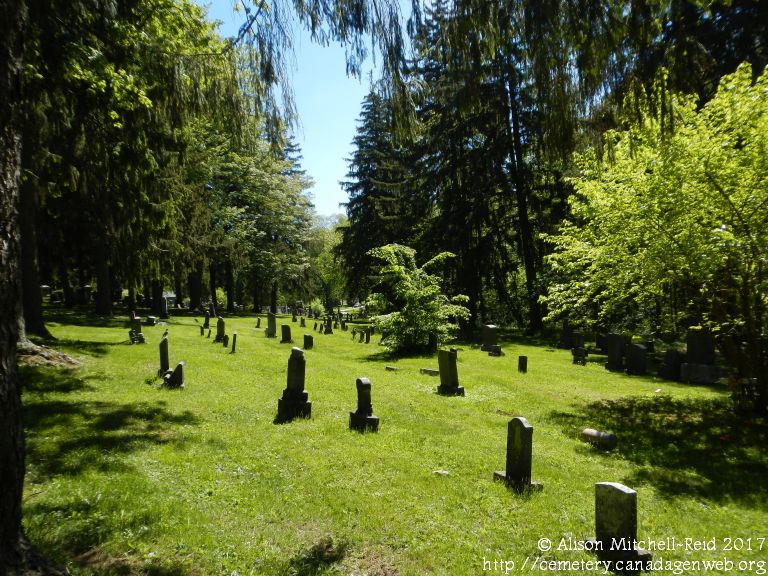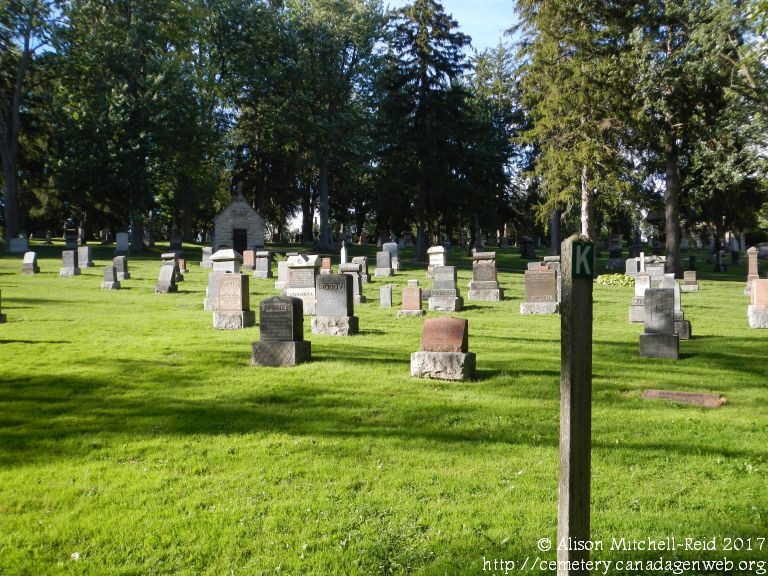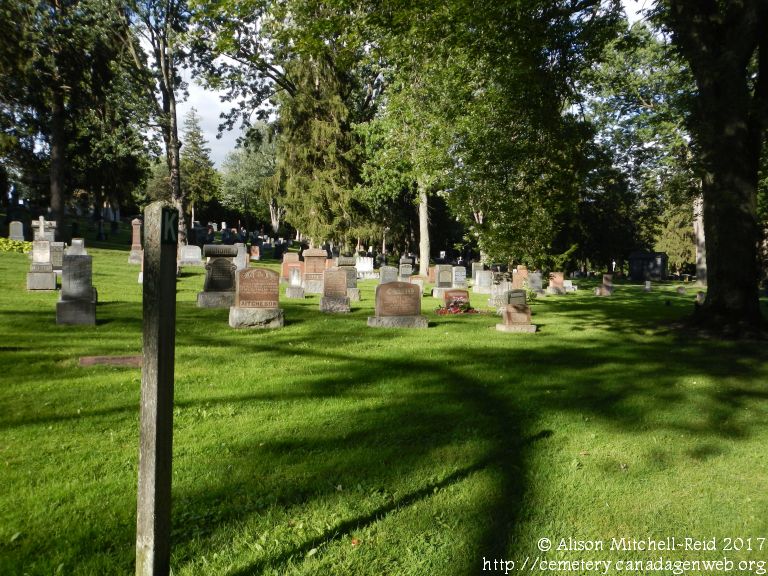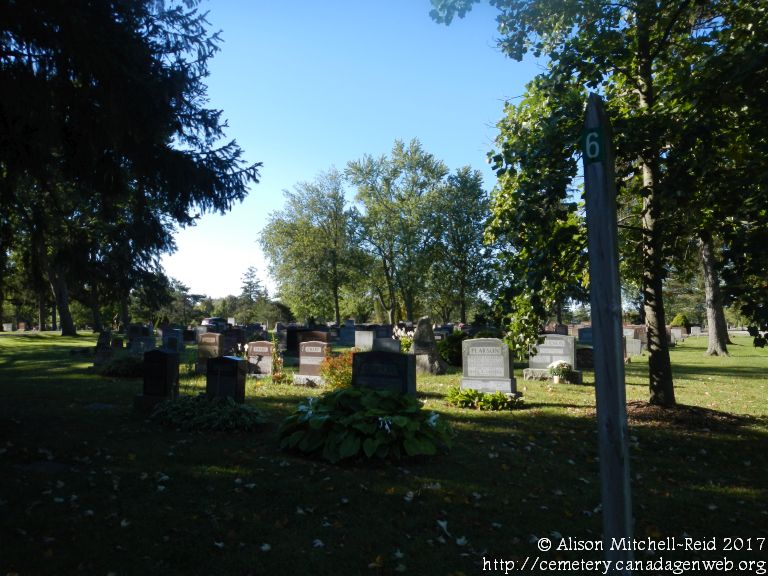 A B C D E F G H I J K L M N O P Q R S T U V W X Y Z All
Some persons named in this index may not be interred in this cemetery. They are designated as spouse or parent on appropriate stones, and may not have their own birth and death recorded here (See our FAQ).
Women, if maiden names are known, will appear under both their maiden and married names.
This index does NOT include every headstone in this cemetery
( Section W )
(unknown), Tommy footstone
(unreadable)
(unreadable)
(unreadable)
(unreadable)
(unreadable)
(unreadable)
(unreadable)
(unreadable)
(unreadable)
(unreadable)
(unreadable) ? ?
(unreadable), Alphonsa, Sister ? - 1896
(unreadable), Isabella?
(unreadable), James?
(unreadable), M Pulcheria, Mother ? - 1898
(unreadable), Nelda
(unreadable), William 1879 - 1891 (age: 12)
ABBOTT, Ellenora 1903 - 1956
ABBOTT, George W. 1915 - 1974 (age: 59)
ABBOTT, Isabel G. 1916 - 2003
ABBOTT, John J. 1905 - 1983
ABBOTT, Mary Angela 1901 - 1993
ABELL, Gladys L. 1914 - 1992
ABELL, James H 1905 - 1978
ABELL, Martha Ann (Robb) 1878 - 1971
ABELL, Richard H. 1866 - 1936
ABELL, Stanley R 1907 - 1970
ABRAHAM, Alexander 1871 - 1946
ABRAHAM, E. Merle 1925 - 1975
ABRAHAM, Edith E. (Gasson) 1904 - 2005
ABRAHAM, Edna L. (Lamb) 1887 - 1977
ABRAHAM, Evelyn (Steele) 1876 - 1955
ABRAHAM, Fanny (Knox) 1853 - 1927
ABRAHAM, H. Norman 1887 - 1928
ABRAHAM, Henry 1884 - 1959
ABRAHAM, Joseph ? - 1911
ABRAHAM, Kenneth A. 1907 - 1995
ABRAHAM, Lauretta Elizabeth 1884 - 1969
ABRAHAM, Leonard B. 1888 - 1916
ABRAHAM, Mary 1878 - 1976
ABRAHAM, Mary A 1870 - 1941 (age: 71)
ABRAHAM, Mary E (Fitzpatrick) 1859 - 1929 (age: 70)
ABRAHAM, Mary L. (Kane) 1889 - 1977
ABRAHAM, Milicent (Pinder) 1848 - 1946
ABRAHAM, Millicent E 1879 - 1927 (age: 48)
ABRAHAM, Richard 1842 - 1916
ABRAHAM, Sarah J. (Chrysler) 1886 - 1971
ABRAHAM, William 1857 - 1913
ABRAHAM, William H. 1891 - 1916
ABRAHAM, William Henry 1917 - 1986
ABRAHAM, William J. 1875 - 1929
ACHESON, Helen W. 1899 - 1959
ACKERMAN, Peter 1897 - 1961
ACKERSVILLER, Alfred Allan 1908 - 1992
ACKERSVILLER, Edmund Earl 1928 - 2005
ACKERSVILLER, Isaac 1879 - 1951
ACKERSVILLER, Margaret 1858 - 1926 (age: 68)
ACKERSVILLER, Margaret (Rock) 1891 - 1974
ACKERSVILLER, May (Huston) 1882 - 1959
ACKERSVILLER, Robert Alexander 1884 - 1963
ACKERSVILLER, Sharon P. (Bell) 1938 - 2008
ACKERSVILLER, William Henry 1889 - 1986
ADAIR
ADAIR
ADAIR, Caroline E. (Pauli) 1901 - 1966
ADAIR, Doris M 1950 - 1968
ADAIR, Elizabeth Mary (Colter) 1817 - 1905
ADAIR, Eurietta (Chapman) 1897 - 1992
ADAIR, Fannie E. 1905 - 1955
ADAIR, Glen A 1938 - 1981
ADAIR, Gloria M. (Bohnert) 1929 - 1998
ADAIR, Herbert M. 1896 - 1960
ADAIR, Jack parent
ADAIR, John W 1893 - 1970
ADAIR, Joseph 1809 - 1877
ADAIR, Keith D. 1926 - 1976