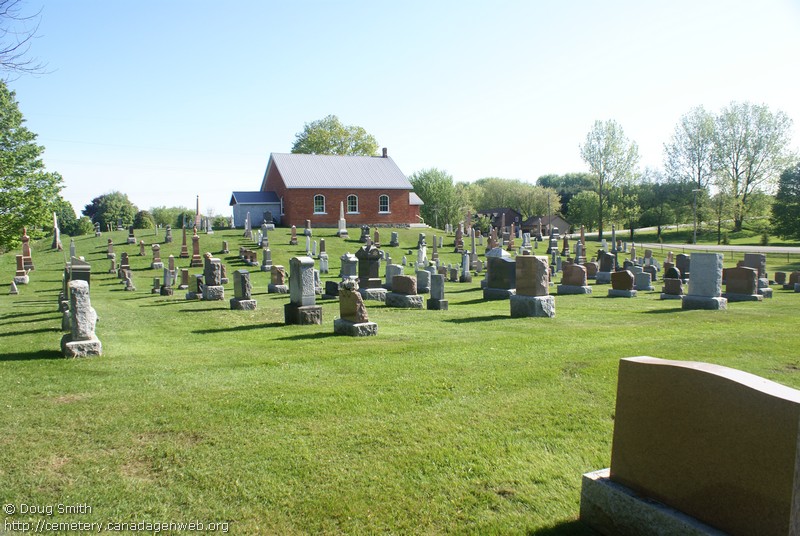 Street Address: Perth Rd 107 & Line 37
Township: North Easthope Township (Concession 2, Lot 21)
Locality: Perth County
Municipality: Perth East
Province: ON
GPS: 43.387593,-80.837608

Church / Denomination: Formerly St Andrew's Presbyterian Church. Congregation established 1840 Rev Daniel Allan, Presbyterian Church of Canada in connection with (Established) Church of Scotland. 1875, Presbyterian Church in Canada. Congregation dissolved 1961.
Registered to* St. Andrew's Cemetery Board. From main intersection in Shakespeare, Ontario (Hwy 7/8) follow Perth Road 107 NORTH about 2 km to Line 37. Cemetery is on south west corner.
GENEALOGY RESOURCES (Add / Remove a link)
These links are provided for your convenience and may take you to websites that offer products and/or services for sale.
CanadaGenWeb's Cemetery Project does not control the content offered - take note of our site design, if it changes you've left this website!
On the Internet

Not on the internet
SOURCES / THANKS
Al Clarkson (from data on commemorative church plate in National Presbyterian Museum)
---
Photos courtesy of Doug Smith [2012], additions from Kelly Torrington
Indexed by Doug Smith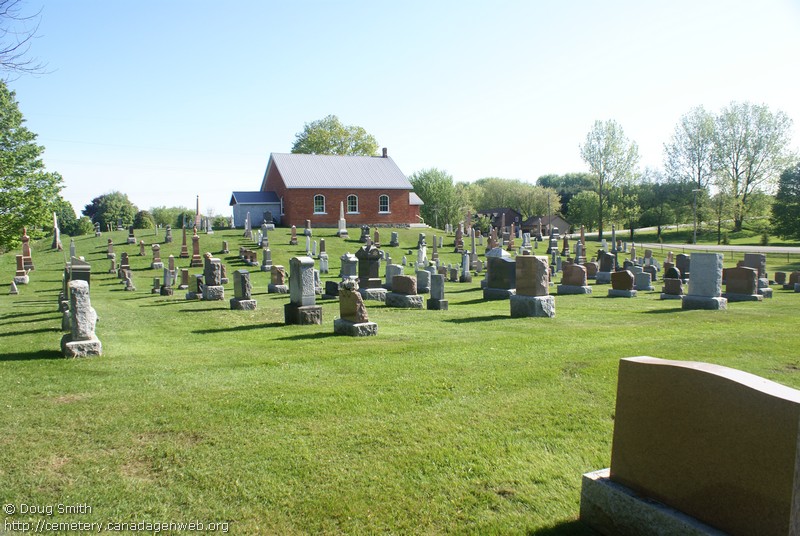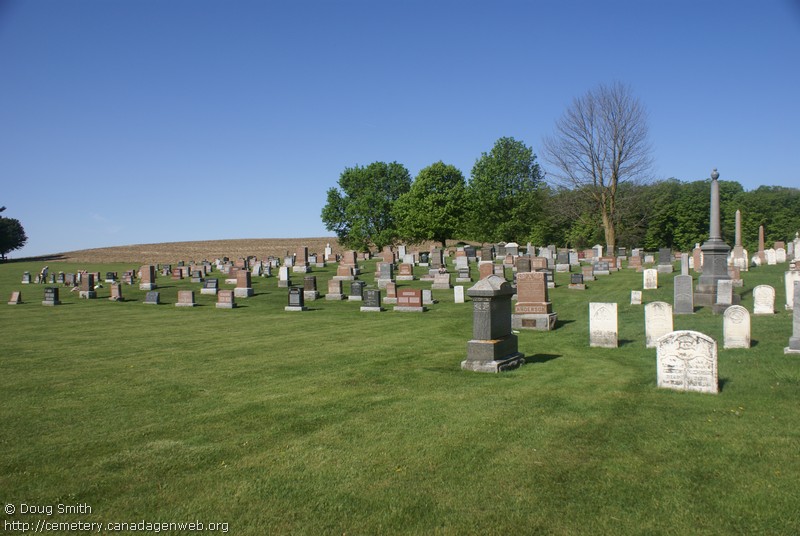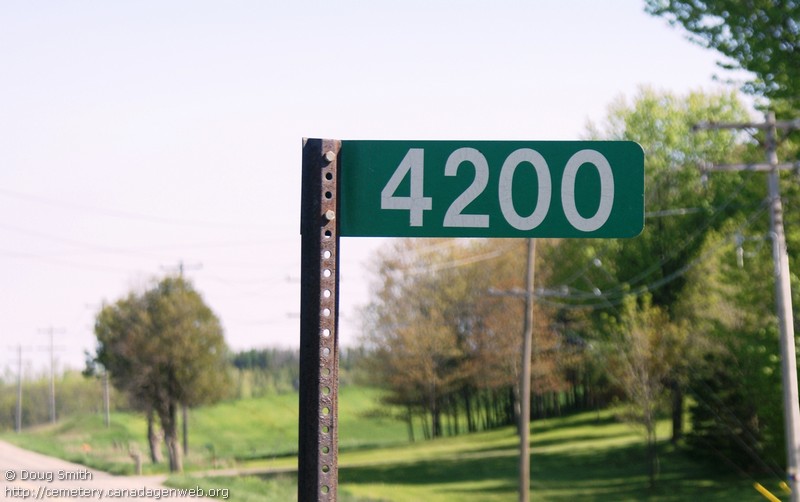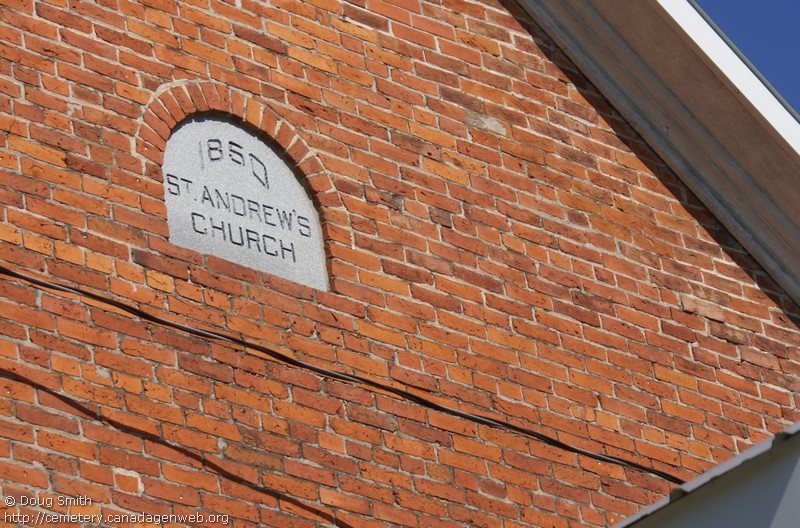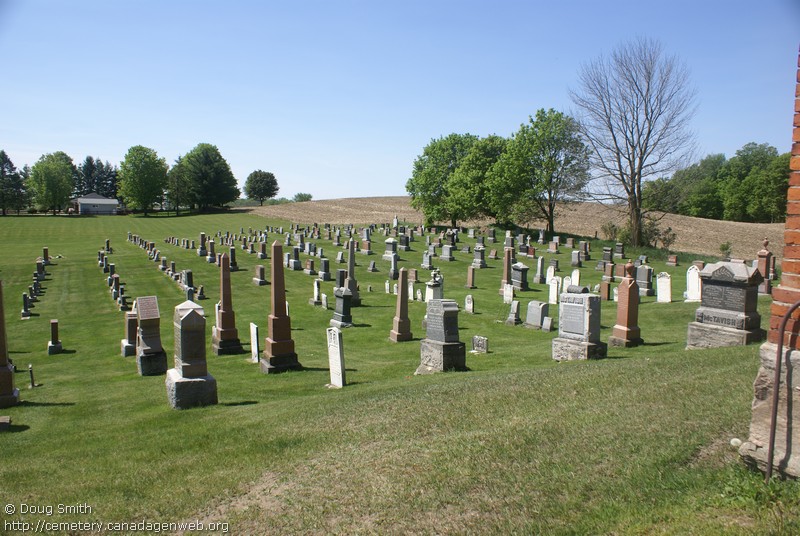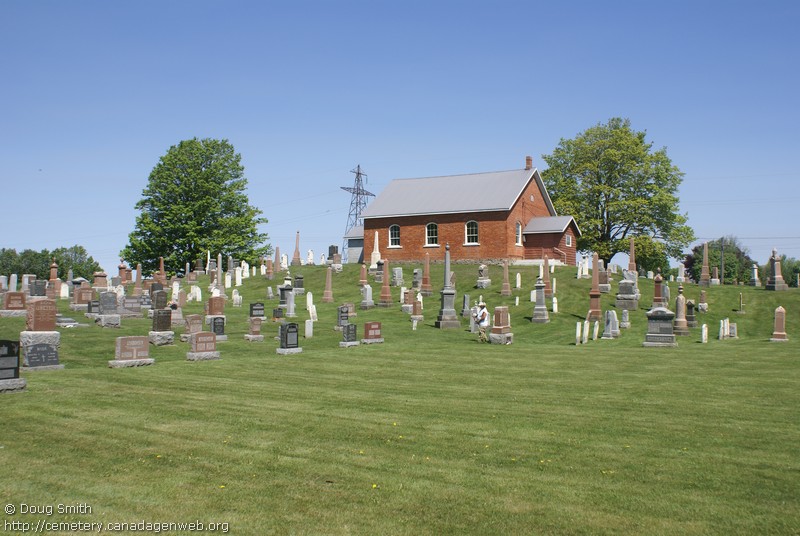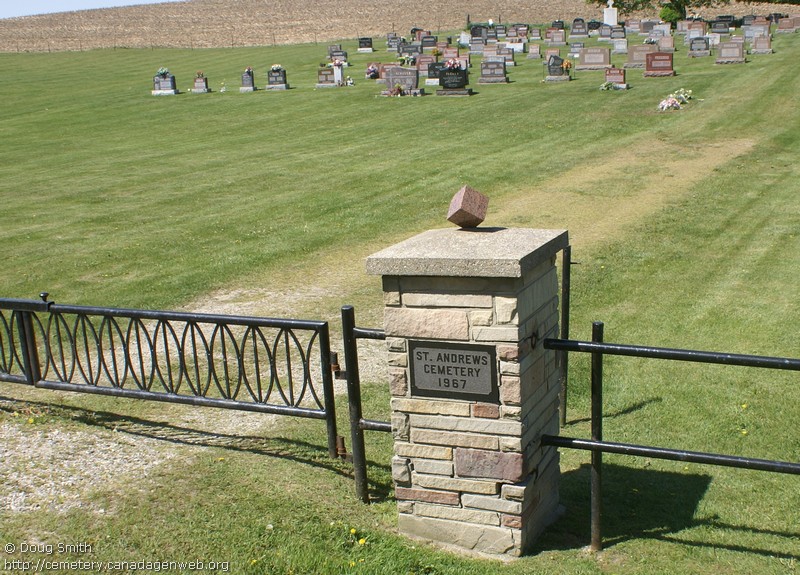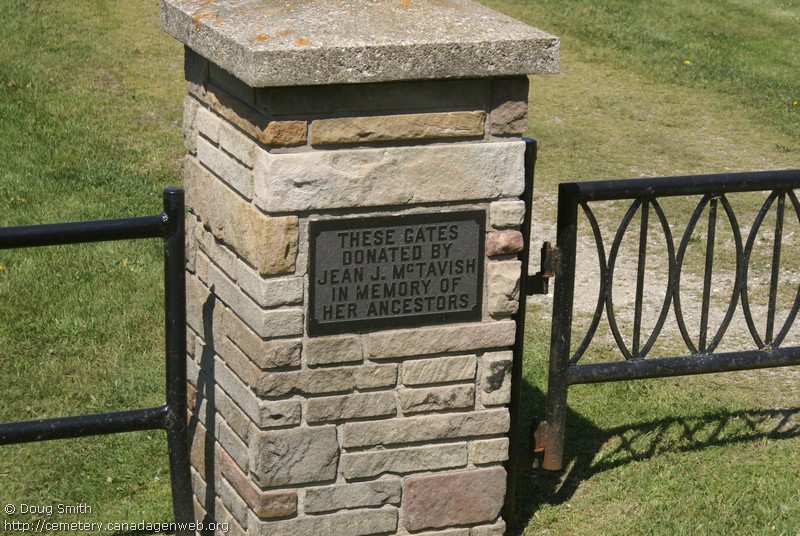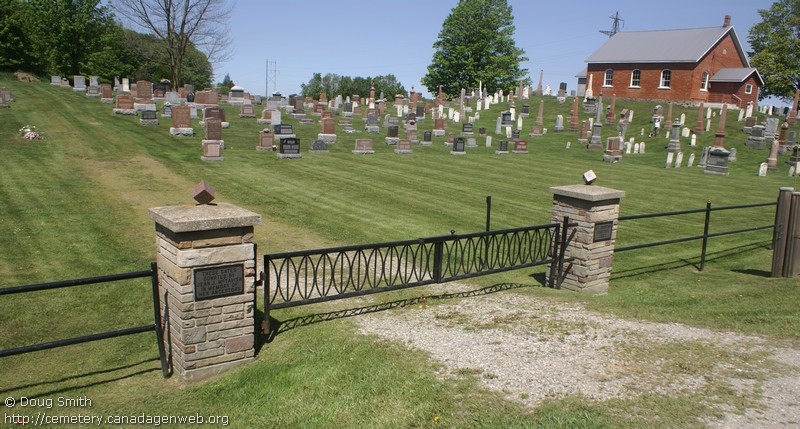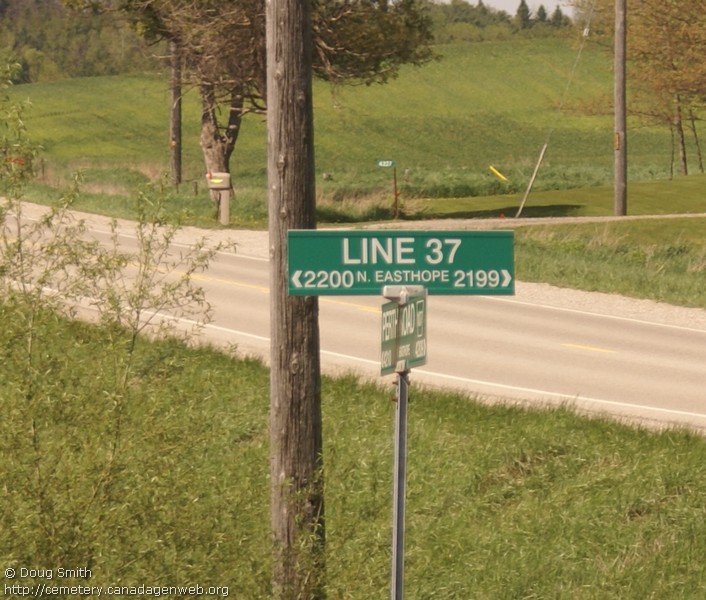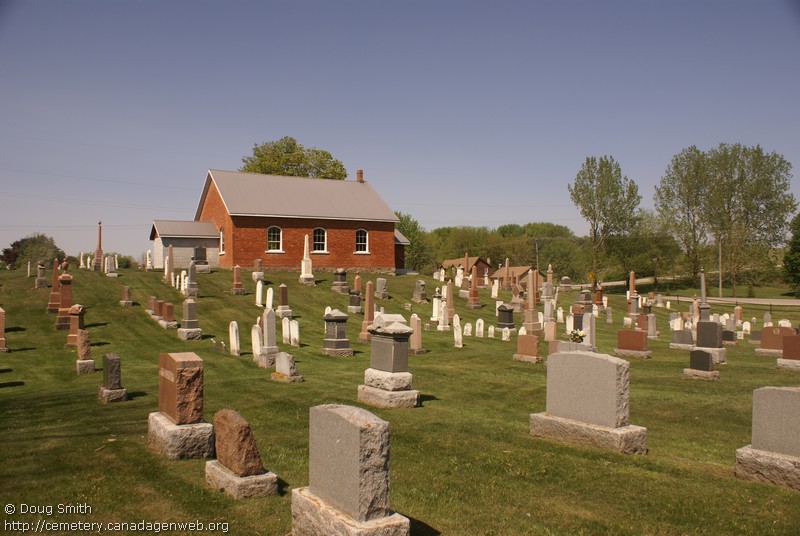 A B C D E F G H I J K L M N O P Q R S T U V W X Y Z All
Some persons named in this index may not be interred in this cemetery. They are designated as spouse or parent on appropriate stones, and may not have their own birth and death recorded here (See our FAQ).
Women, if maiden names are known, will appear under both their maiden and married names.
This index represents ALL visible headstones still in existence at the time this cemetery was visited
(unreadable)
(unreadable) 1795 - 1872 (age: 77)
(unreadable)
(unreadable)
(unreadable) ? ? (age: 80)
?, David
?, Elizabeth
?, Ellen
?, Isabel (Hamilton)
?, Janet 1788 - 1857 (age: 69)
?, Mary ? - 1854
?, Robert 1842 - 1904 (age: 62)
AITCHESON (Living)
AITCHESON, Jessie B. 1904 - 1997
ALGIE, James H. spouse
ALGIE, Nancy M. E. 1937 - 2006
ALLAN, Agnes Campbell 1903 - 1981
ANDERSON (Living)
ANDERSON, Alexander 1895 - 1976
ANDERSON, Alexander 1810 - 1880 (age: 70)
ANDERSON, Ann 1810 - 1843 (age: 33)
ANDERSON, Anne 1808 - 1886 (age: 78)
ANDERSON, Annie 1864 - 1949 (age: 85)
ANDERSON, Austin 1899 - 1925
ANDERSON, Duncan 1847 - 1884 (age: 37)
ANDERSON, Elizabeth 1805 - 1863 (age: 58)
ANDERSON, Elizabeth 1871 - 1950
ANDERSON, Elizabeth I. (McCallum) 1901 - 1982
ANDERSON, Irene Elizabeth (Yeoward) 1910 - 2012
ANDERSON, Isabella 1821 - 1885 (age: 64)
ANDERSON, James Alexander 1929 - 1994
ANDERSON, Janet 1842 - 1854 (age: 12)
ANDERSON, Jessie 1832 - 1897 (age: 65)
ANDERSON, John 1869 - 1949
ANDERSON, John 1823 - 1895 (age: 72)
ANDERSON, Margaret (Crerar) 1830 - 1913 (age: 83)
ANDERSON, Mary 1797 - 1859 (age: 62)
ANDERSON, Mary (Yeoward) 1867 - 1941
ANDERSON, William Crerar 1903 - 1988
APPEL, Dayton V. 1923 - 2000
APPEL, Mabel parent
APPEL, Mabel (Browe) 1896 - 1977
APPEL, Victor parent
APPEL, Victor E. 1890 - 1958
ARMSTRONG, Charlotte A. 1863 - 1947
ARMSTRONG, Phoebe 1854 - 1928 (age: 74)
BAECHLER, Edna 1908 - 1986
BANFIELD, Ellen 1848 - 1894 (age: 46)
BANFIELD, Thomas spouse
BARBER, May Lillian 1908 - 2003
BARR, Mariah 1851 - 1852 (age: 10m)
BARR, William 1810 - 1853 (age: 43)
BATES, Charlotte 1848 - 1888 (age: 40)
BATES, Charlotte E. 1866 - 1928
BATES, Elizabeth parent
BATES, Elizabeth (Callin) 1843 - 1914 (age: 71)
BATES, John 1799 - 1880 (age: 81)
BATES, John parent
BATES, Katherine A. 1884 - 1936
BATES, Mary Ellen 1884 - 1951
BATES, Mary Ellen 1886 - 1951 (age: 65)
BATES, McFarland 1836 - 1916 (age: 80)
BATES, Sarah 1876 - 1963
BATY, Charles 1898 - 1973
BAUMBACH, Charles H. 1899 - 1956
BAUMBACH, Ida D. (Cormack) 1900 - 1974
BECKER, Conrad 1862 - 1934
BECKER, Elizabeth 1855 - 1927 (age: 72)
BECKER, Ellen Laing (Hyde) 1862 - 1944
BECKER, Katharine 1873 - 1959
BECKINGSALE, Frances Mabel 1891 - 1969
BELL (Living)
BELL (Living)
BELL, ?
BELL, Agnes (Porter) 1904 - 1980
BELL, Agnes Campbell (Allan) 1903 - 1981
BELL, Allan 1895 - 1974
BELL, Ann parent