Street Address: 1251 South Big Island Road
Township: Sophiasburg Township (BF, Lots 7-8)
Locality: Prince Edward County
Municipality: Prince Edward
Province: ON
GPS: 44.112863,-77.225625

Registered to* County of Prince Edward.
GENEALOGY RESOURCES (Add / Remove a link)
These links are provided for your convenience and may take you to websites that offer products and/or services for sale.
CanadaGenWeb's Cemetery Project does not control the content offered - take note of our site design, if it changes you've left this website!
On the Internet

Not on the internet
SOURCES / THANKS
---
Photos courtesy of Alison Mitchell-Reid [2015]
Indexed by Alison Mitchell-Reid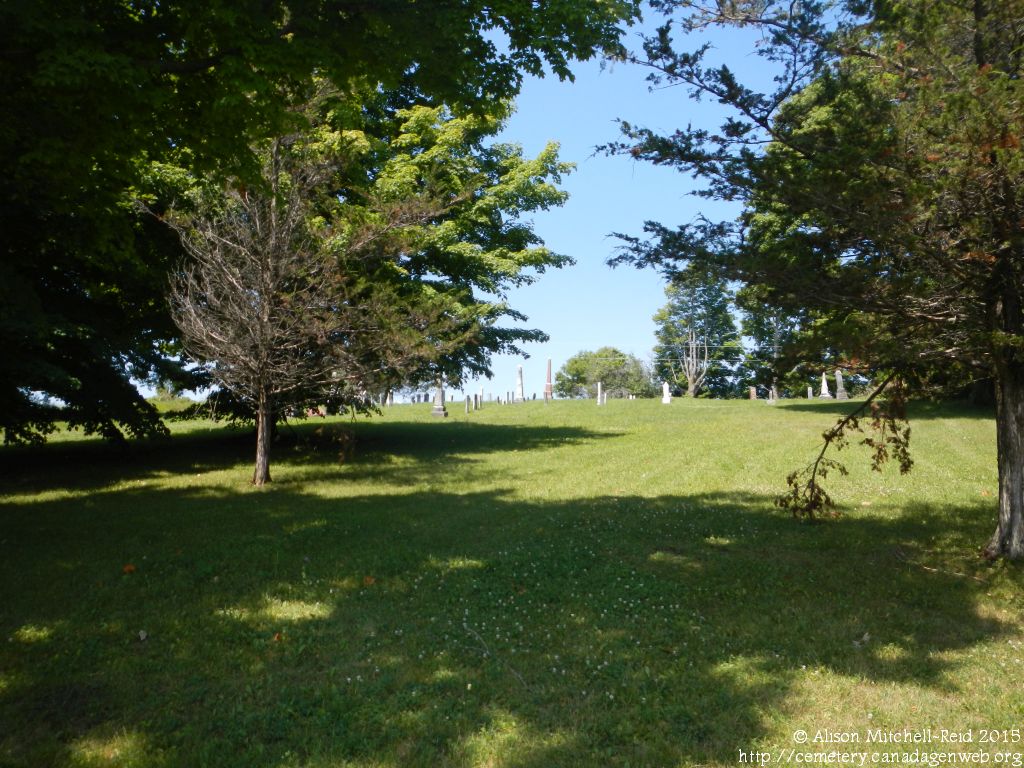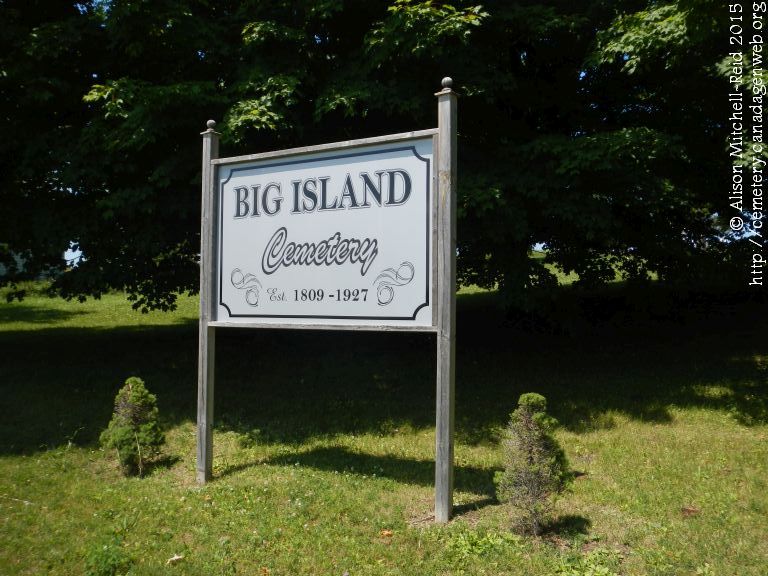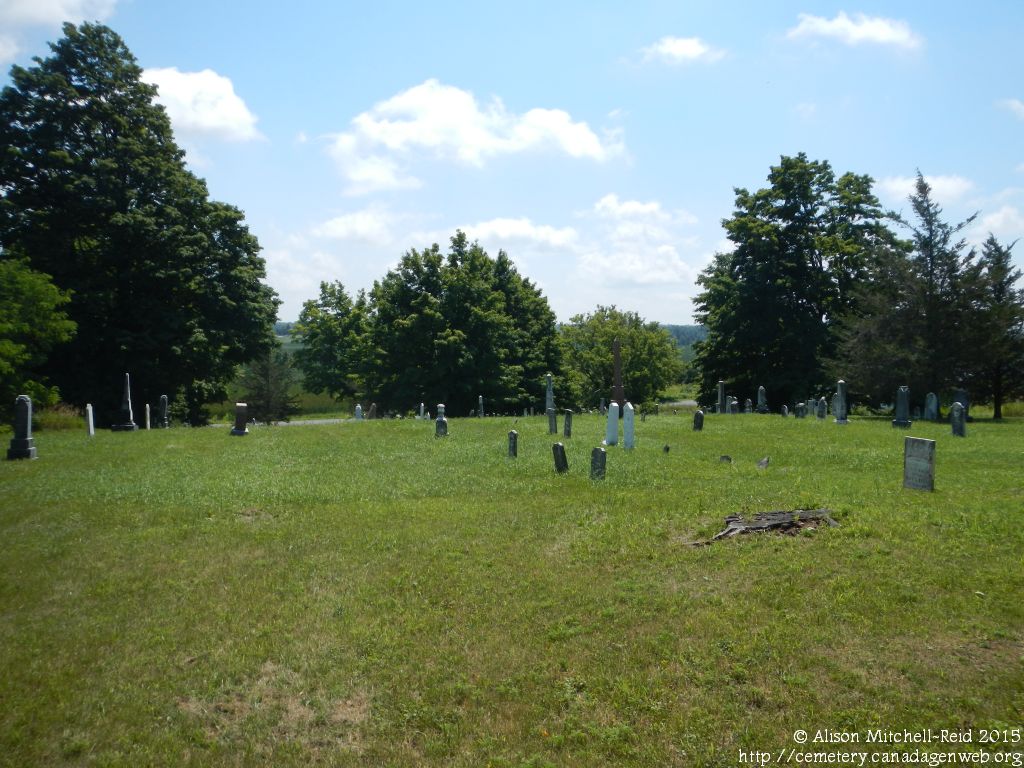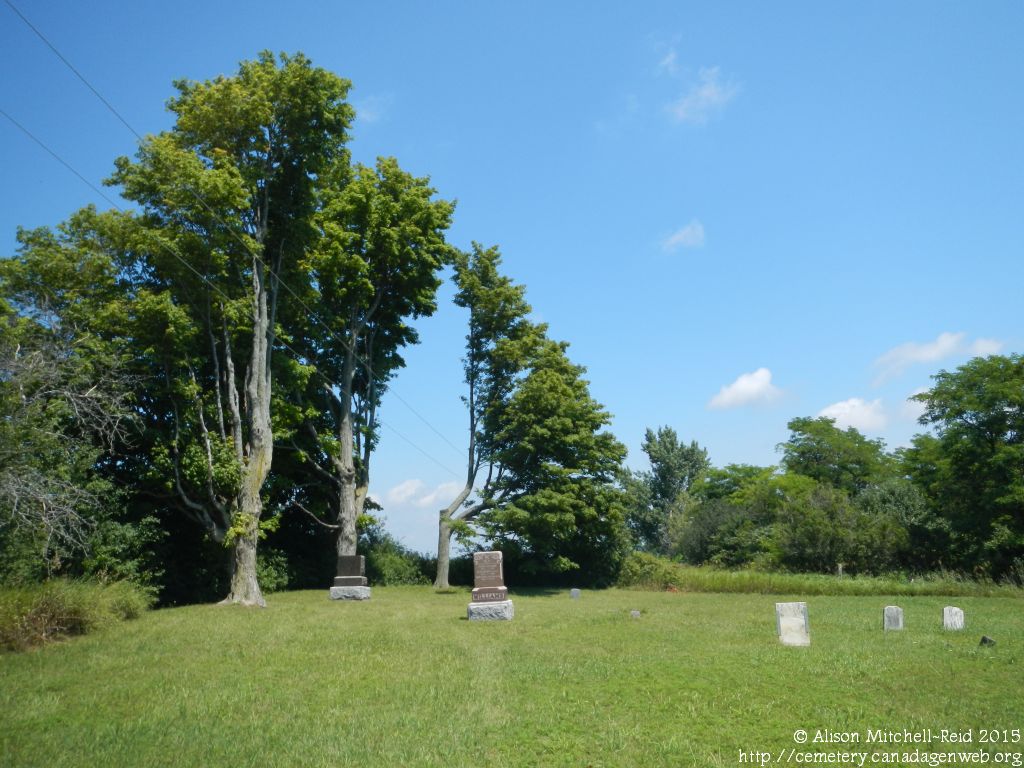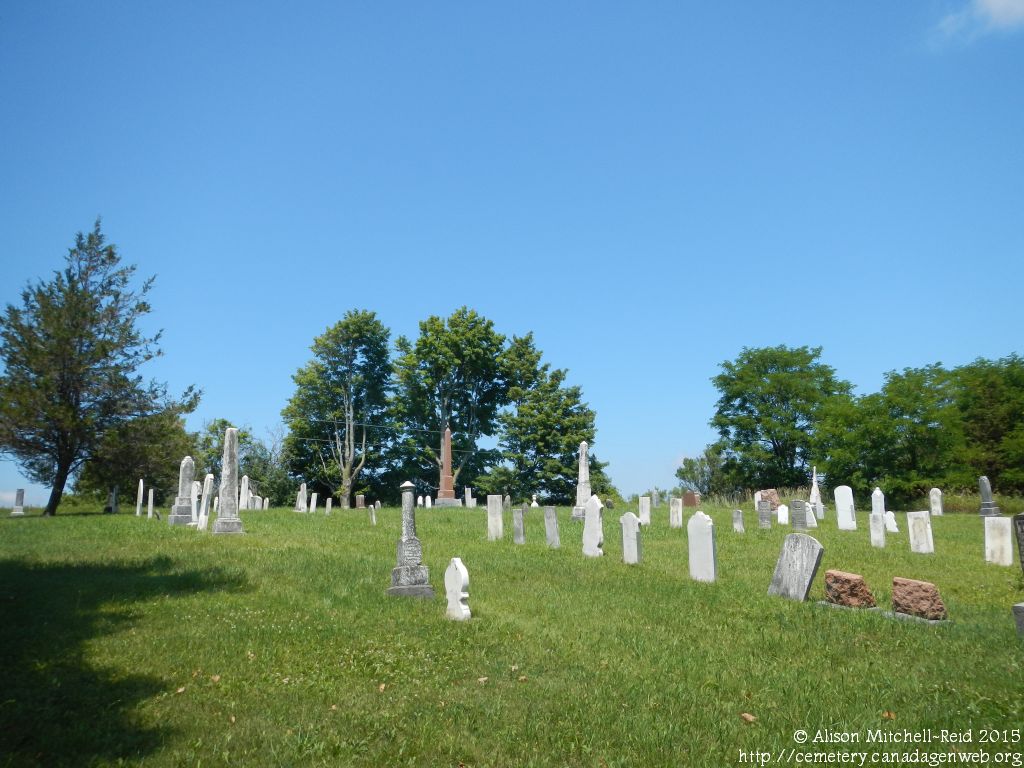 Some persons named in this index may not be interred in this cemetery. They are designated as spouse or parent on appropriate stones, and may not have their own birth and death recorded here (See our FAQ).
Women, if maiden names are known, will appear under both their maiden and married names.
This index represents ALL visible headstones still in existence at the time this cemetery was visited
(Grandfather) footstone
(Grandmother) footstone
(unknown)
(unknown)
(unknown)
(unknown)
(unknown)
(unknown)
(unreadable) (age: 1)
(unreadable) ? - 1830
(unreadable) 1809 - 1858 (age: 49)
(unreadable)
(unreadable), Emma? ? ? (age: 18)
(unreadable), James parent
(unreadable), Jane parent
(unreadable), William 1878 - 1878 (age: 3m)
(unreadable), William Henry 1868 - 1874 (age: 6)
(unreadable), Willie 1871 - 1872
ALLISON, (unreadable) 1833 - 1903 (age: 70)
ALLISON, H 1800 - 1887 (age: 86)
ALLISON, Hannah (Gurnee) 1772 - 1845 (age: 73)
ALLISON, Jeremiah 1763 - 1857 (age: 93)
ALLISON, Mary 1806 - 1880 (age: 74)
ALLISON, Nelson J 1827 - 1874 (age: 46)
ALLISON, Orville 1836 - 1915
ALLISON, Sarah 1813 - 1910 (age: 97)
ALLISON, William spouse
B, J ? - 1842
BADGLEY, George Chester ? ?
BARRAGAR, Paul 1819 - 1849 (age: 30)
BARRAGER, Armenta 1835 - 1854
BARRAGER, Charlotte 1836 - 1878
BARRAGER, Mary 1800 - 1850
BARRAGER, Paul 1848 - 1867
BARRAGER, Peter, Jr. 1840 - 1866
BARRAGER, Peter, Sr. 1788 - 1863
BARRAGER, Samuel spouse
BARRAGER, Sarah C 1853 - 1855
BARTON, Elizabeth Ann ? - 1858
BONTER, Franky ? ?
BONTER, R. H. parent
BONTER, Robert H 1831 - 1878 (age: 47)
BONTER, S. A. parent
BONTER, Sarah Margaret 1859 - 1864 (age: 5)
BONTER, Z. H. parent
CARNAHAN, Miriam 1818 - 1900 (age: 82)
CARR, Conrad 1830 - 1888
CARR, Hanna Lorana 1825 - 1911
CARR, Samuel Dorland 1859 - 1892
COLE, Hannah 1800 - 1884
COLE, Hannah M 1837 - 1857 (age: 20)
COLE, Ira 1846 - 1851 (age: 5)
COLE, J.F. parent
COLE, J.F. parent
COLE, J.F. parent
COLE, L. M. parent
COLE, L. M. parent
COLE, L. M. parent
COLE, Lillian Blanche 1869 - 1885 (age: 15)
COLE, Lucy M 1864 - 1886 (age: 22)
COLE, Lydia A 1850 - 1889 (age: 39)
COLE, Simon 1804 - 1880 (age: 76)
COLE, Theressa E ? - 1851
COLE, Zechariah 1795 - 1845 (age: 50)
DELONG, (infant son) 1868 - 1868
DELONG, Catharine 1793 - 1859 (age: 66)
DELONG, Catharine 1837 - 1858 (age: 21)
DeLONG, Catharine parent
DELONG, Catherine 1837 - 1879 (age: 42)
DELONG, Catherine 1833 - 1908
DELONG, Henry 1803 - 1873 (age: 70)
DELONG, Henry spouse
DELONG, Jeremiah spouse
DeLONG, Jeremiah parent
DELONG, Mary 1804 - 1841 (age: 36)
DELONG, Mary (Robertson) ? ?
DELONG, Mary (Wanamaker) 1809 - 1844 (age: 35)
DELONG, Nelson 1841 - 1869 (age: 28)