Street Address: 7661 Hwy 26
Community: Stayner
Township: Nottawasaga Township (Concession 3, Part Lot 27)
Locality: Simcoe County
Municipality: Clearview
Province: ON
GPS: 44.430961,-80.099764

Registered to* Township of Clearview. Established in the 1870's on land donated by John Clark.
GENEALOGY RESOURCES (Add / Remove a link)
These links are provided for your convenience and may take you to websites that offer products and/or services for sale.
CanadaGenWeb's Cemetery Project does not control the content offered - take note of our site design, if it changes you've left this website!
On the Internet

Not on the internet
SOURCES / THANKS
---
Photos courtesy of Bonnie Lee Breadner & Myrna White [2012], Additions from Dorothy Hiltz [2014], Pete Carell [2014], Jan Briggs-McGowan [2015]
Indexed by Bonnie Lee Breadner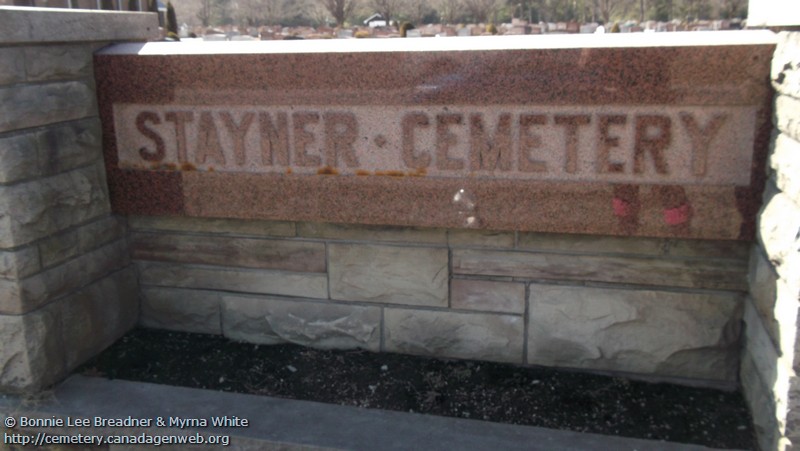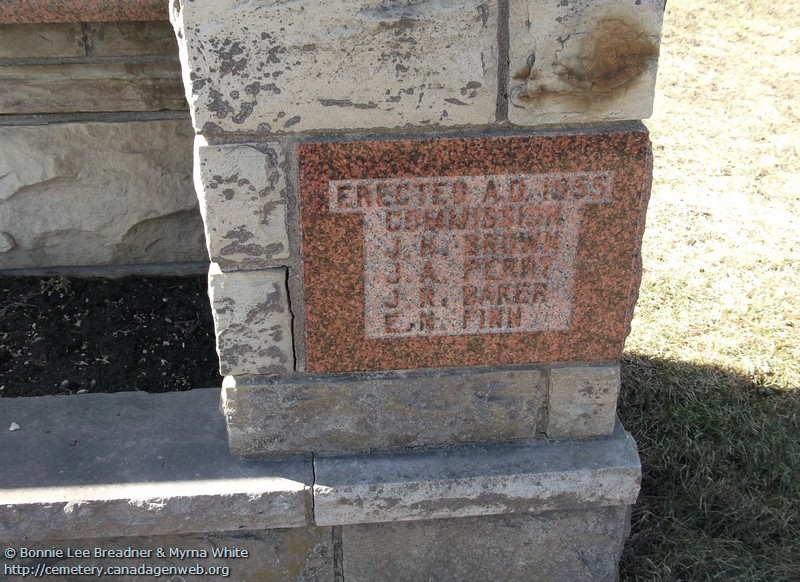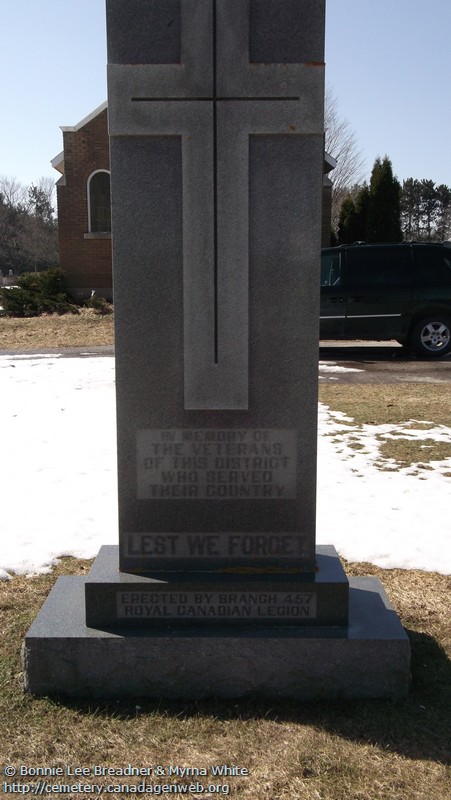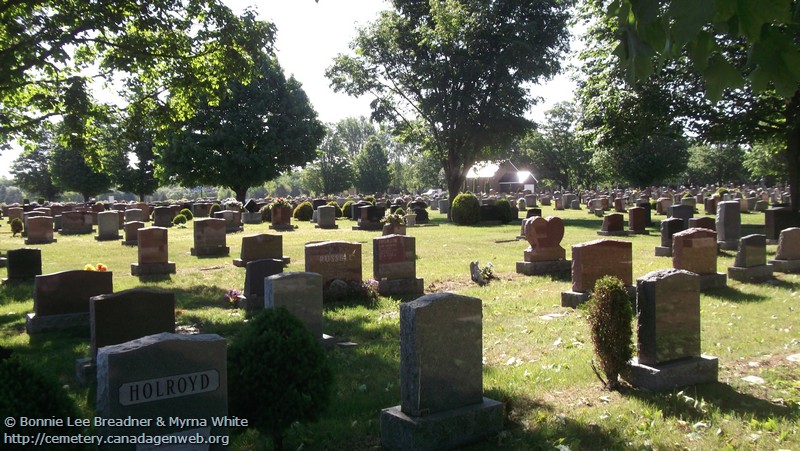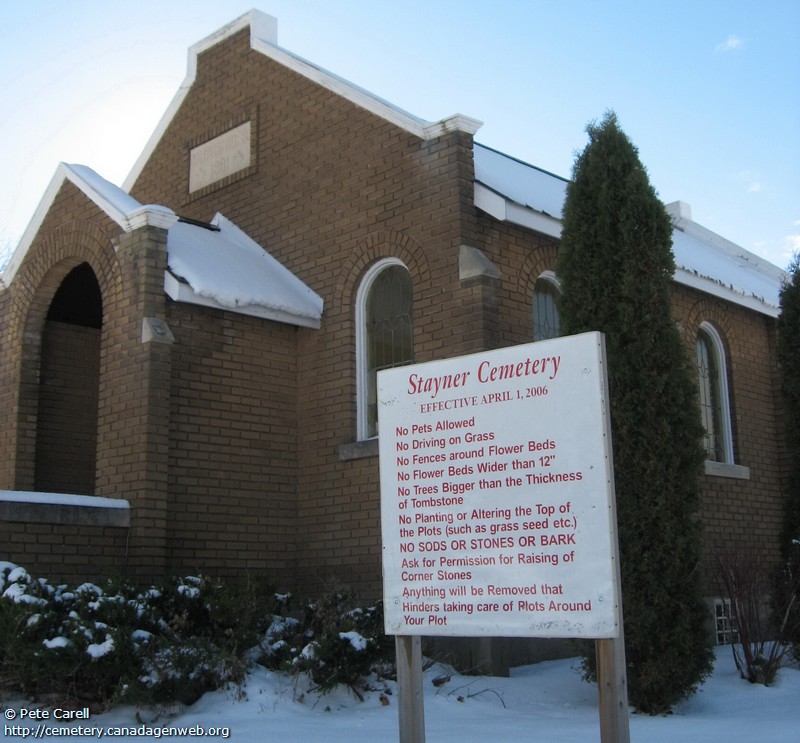 A B C D E F G H I J K L M N O P Q R S T U V W X Y Z All
Some persons named in this index may not be interred in this cemetery. They are designated as spouse or parent on appropriate stones, and may not have their own birth and death recorded here (See our FAQ).
Women, if maiden names are known, will appear under both their maiden and married names.
This index represents ALL visible headstones still in existence at the time this cemetery was visited
DAFOE, Helen B 1923 - 2011
DALES, Fred L 1897 - 1975
DALES, Frederick L 1897 - 1975 (age: 78)
DALES, Hazel B 1901 - 1994
DALEY, Mary A 1872 - 1951
DALEY, Verna E 1904 - 1986
DALTON, Margaret 1916 - 1999
DALY, Flossie L 1900 - 1985
DALY, Hannah (Middlebrook) 1874 - 1959
DALY, Michael 1860 - 1931
DARRACH, Catherine Ann 1875 - 1936 (age: 61)
DARRACH, Donald 1865 - 1900 (age: 35)
DARRACH, Janet E 1862 - 1948 (age: 86)
DARRACH, John 1833 - 1912 (age: 79)
DARRACH, Mary (Buie) 1834 - 1895 (age: 61)
DAVELAAP, Grietje 1911 - 2006
DAVENPORT, Lillian B (Ross) 1907 - 1998
DAVENPORT, Walter Ernest 1901 - 1982
DAVEY, Lulu E 1892 - 1966
DAVEY, Maude 1876 - 1968
DAVEY, Violet M 1910 - 1981
DAVIDSON, Annie E 1874 - 1956
DAVIDSON, Charlotte E. 1922 - 1977
DAVIDSON, Doris E (Upstone) 1917 - 1987
DAVIDSON, George N 1920 - 2005
DAVIDSON, Jane 1849 - 1911
DAVIDSON, Laura E 1910 - 1978
DAVIDSON, S. R. Milton 1911 - 1962
DAVIE, Milton T 1904 - 1962
DAVIE, Orel E 1906 - 1979
DAVIE, T Elwood 1934 - 1991
DAVIES, Doris S (Reet) 1904 - 1995
DAVIES, Frederick James "Peter" 1911 - 1989
DAVIES, William E 1904 - 1985
DAVIS, Ethel Edna 1893 - 1955
DAVIS, Florence A 1906 - 1967
DAVIS, Mary G 1899 - 1964
DAVIS, Matilda 1847 - 1912 (age: 65)
DAVIS, Ronald M 1955 - 1988
DAVIS, Sarah (Glen) 1858 - 1885 (age: 27)
DAVIS, William spouse
DAWE, Ida B E (Grant) 1926 - 2004
DAY, Allan Norman 1941 - 1995
DAY, Audrey V 1941 - 2007
DAY, Delbert K 1906 - 1986
DAY, Elsie M (Evans) spouse
DAY, John W 1916 - 1996
DAY, Kathleen B spouse
DAY, Kathleen Zola (Hogg) 1911 - 1978
DAY, Nell (Bowler) spouse
DAY, Orville Roy 1911 - 1899
DE BIE, Anna 1886 - 1969
DE BRUIN, Simon 1917 - 2007
DEADMAN, Edith S (Green) 1886 - 1968
DEADMAN, Joseph H 1886 - 1985
DEAR, Alexander W 1894 - 1973
DEAR, Rose B (Machin) 1887 - 1975
DEAR, William C 1929 - 1969
DEARLOVE, Arthur D 1905 - 1991
DEARLOVE, Hazel M (Cooper) 1910 - 1995
DEAVITT, Alexander L T 1891 - 1892 (age: 1)
DEAVITT, Annie 1852 - 1892 (age: 40)
DEAVITT, Wright R 1843 - 1907 (age: 64)
DEBNEY, Betty G 1926 - 2010
DEBRONI, Helene N 1921 - 2007
DEBRUYN, Johanna 1885 - 1965
DELORME, Ernest A 1888 - 1977
DELORME, Essie A (Bizer) 1888 - 1948
DEMAEYER, Albert J 1927 - 2010
DEMAEYER, Margaret Rita 1928 - 1994
DEMPSTER, Susan 1895 - 1976
DENDEWICH, Kathleen 1914 - 2006
DENDEWICH, Michael F 1909 - 1992
DENISON, Reta Ann 1928 - 2004
DENISON, Sarah Ann (Mills) 1904 - 1978
DENISON, Thomas 1895 - 1964
DENNIS, Glenn 1896 - 1970
DENNIS, Mabel (Synnott) 1889 - 1979