Burkholder United Church Cemetery
Street Address: 465 Mohawk Rd E
Community: Hamilton
Township: Barton Township (Concession 5, Lot 9-10)
Locality: Wentworth County
Municipality: Hamilton
Province: Outside CanadaON
GPS: 43.222875,-79.856466


Church / Denomination: United

Registered to* City of Hamilton.

GENEALOGY RESOURCES (Add / Remove a link)
These links are provided for your convenience and may take you to websites that offer products and/or services for sale. CanadaGenWeb's Cemetery Project does not control the content offered - take note of our site design, if it changes you've left this website!
On the Internet

Not on the internet
SOURCES / THANKS







Photos courtesy of Eric Mountenay-Henhawke [2010]. Additions from Lois M. Walton [1991] courtesy of Wendy Taylor [2015].
Indexed by Kate Ford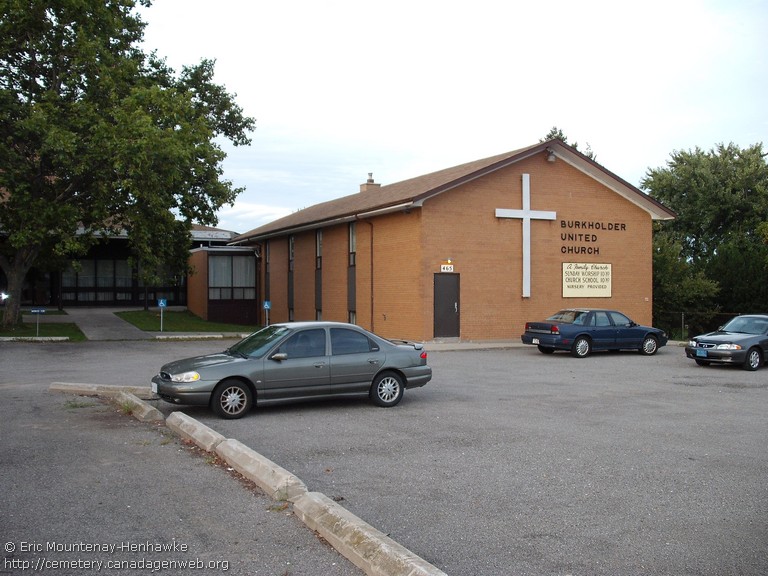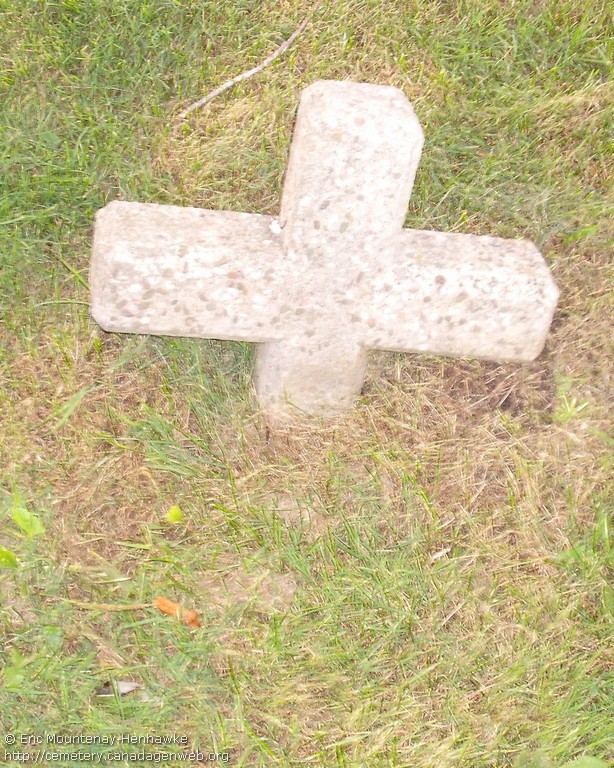 This index represents ALL visible headstones still in existence at the time this cemetery was visited
A B C D E F G H I J K L M N O P Q R S T U V W X Y Z All
- All persons named in this index may not be interred in this cemetery. Some are designated as spouse or parent on appropriate stones, and may not have their own birth and death recorded here (FAQ).
- Women, if maiden names are known, will appear under both their maiden and married names.
Name
Born - Died
MACASKILL, Charlotte (McDougall)
1900 - 19??
MACASKILL, Helen D.
1923 - 1956 (age: 33)
MACASKILL, John
1895 - 1953 (age: 58)
MAFFEY, Annie M.
1869 - 1948 (age: 79)
MAFFEY, Ellen E. (Burkholder)
1873 - 1953 (age: 80)
MAFFEY, Francis N.
1872 - 1954 (age: 82)
MAFFEY, Margaret M. (Walls)
1861 - 1928 (age: 67)
MAFFEY, William
1842 - 1924 (age: 82)
MAITLAND, Helen
1893 - 1976 (age: 83)
MAJENSKY, Lillian
1920 - 2004 (age: 84)
MAJENSKY, Robert
1939 - 1989 (age: 50)
MAJENSKY, Stanley
1916 - 1963 (age: 47)
MALLARD, John H.
1881 - 1968 (age: 87)
MALLARD, Phoebe Elizabeth
1897 - 1944 (age: 47)
MALLETT, Marion
1878 ?
MALLETT, William Arthur
1878 - 1963 (age: 85)
MARSHALL, Bertram Percival
1887 - 1970 (age: 83)
MARSHALL, Joseph H.
1884 - 1984 (age: 100)
MARSHALL, Lily
1896 - 1933 (age: 37)
MARSHALL, Margaret T. (Tibbs)
1882 - 1975 (age: 93)
MARSHALL, Ned
parent
MARSHALL, Theodore F.
1912 - 1985 (age: 73)
MARSTON, Arthur
1885 - 1959 (age: 74)
MARSTON, Harry
1889 - 1962 (age: 73)
MARSTON, Mabel
1886 - 1968 (age: 82)
MARSTON, Minnie
1887 - 1959 (age: 72)
MARTIN, James G.
1891 - 1962 (age: 71)
MARTIN, Janet Bannerman
1916 - 1990 (age: 74)
MARTIN, Jeanie (McLuckie)
1896 - 1938 (age: 42)
MARTINSON?, ?
? ?
MASON, Hannah M.
1906 - 1996 (age: 90)
MATHER, Alex
1886 - 1943 (age: 57)
MATHER, Jessie (Walker)
1885 - 1976 (age: 91)
Mc???, Grace
1883 - 1976 (age: 93)
Mc???, Robert
1888 - 1951 (age: 63)
McAULEY, Alexander
1897 - 1952 (age: 55)
McAULEY, Anne R. (Anderson)
1897 - 1984 (age: 87)
McAULEY, Elva K.
1928 - 2006 (age: 78)
McCAY, Christina (Burkholder)
1843 - 1921 (age: 78)
McCAY, William
1844 - 1921 (age: 77)
McCLURE, Dora E. (Smith)
1902 - 1953 (age: 51)
McCLURE, Thomas W.
1900 - 1976 (age: 76)
McCULLOUGH, James
1914 - 1987 (age: 73)
McCULLOUGH, Janie (Smith)
1886 - 1962 (age: 76)
McCULLOUGH, Jenny
parent
McCULLOUGH, Jenny
spouse
McCULLOUGH, William
parent
McCULLOUGH, William
1886 - 1972 (age: 86)
McCULLOUGH, William
spouse
McCURDY, Elizabeth
1884 - 1955 (age: 71)
McDONALD, Annie
1886 - 1980 (age: 94)
McDONALD, John A.
1879 - 1970 (age: 91)
McDONNELL, Mildred
1903 - 1991 (age: 88)
McDONNELL, Thomas A.
1906 - 1981 (age: 75)
McDOUGALL, Charlotte
1900 - 19??
McDOUGALL, James
1856 - 1938 (age: 82)
McENNERY, Pearl (Horn)
1892 - 1989 (age: 97)
McENNERY, Samuel R., Private
? - 1917
McFADEN, Elizabeth
1849 - 1930 (age: 81)
McFADEN, Janet
1856 - 1940 (age: 84)
McGILL, A., Rev
spouse
McGILL, Anthony, Rev.
1800 - 1895 (age: 95)
McGILL, Catherine
1811 - 1880 (age: 69)
McGILL, Jane
1848 - 1909 (age: 61)
McGREGOR, Ann
1892 - 1985 (age: 93)
McINTYRE, Charles Davidson
1890 - 1966 (age: 76)
McINTYRE, Edward
1889 - 1959
McINTYRE, Florence
parent
McINTYRE, Florence
1912 - 1995 (age: 83)
McINTYRE, Florence
1912 - 1995 (age: 83)
McINTYRE, George Arthur
1936 - 1957 (age: 21)
McINTYRE, Georgina
1885 - 1974?
McINTYRE, John
1912 - 1987 (age: 75)
McINTYRE, Leonard
parent
McINTYRE, Leonard
1900 - 1971 (age: 71)