Sharon / Children of Peace Burying Ground
Street Address: Leslie St
Community: Sharon
Township: East Gwillimbury Township (Concession 3, Lot 7)
Locality: York County
Municipality: East Gwillimbury
Province: Outside CanadaON
GPS: 44.087914,-79.43722


Church / Denomination: Quaker

Maintained by* Sharon Burying Ground Association. Closed. Established in 1812.

GENEALOGY RESOURCES (Add / Remove a link)
These links are provided for your convenience and may take you to websites that offer products and/or services for sale. CanadaGenWeb's Cemetery Project does not control the content offered - take note of our site design, if it changes you've left this website!
On the Internet

Not on the internet
SOURCES / THANKS







Photos courtesy of Alison Mitchell-Reid & Margaret Yasui {2008}
Indexed by Alison Mitchell-Reid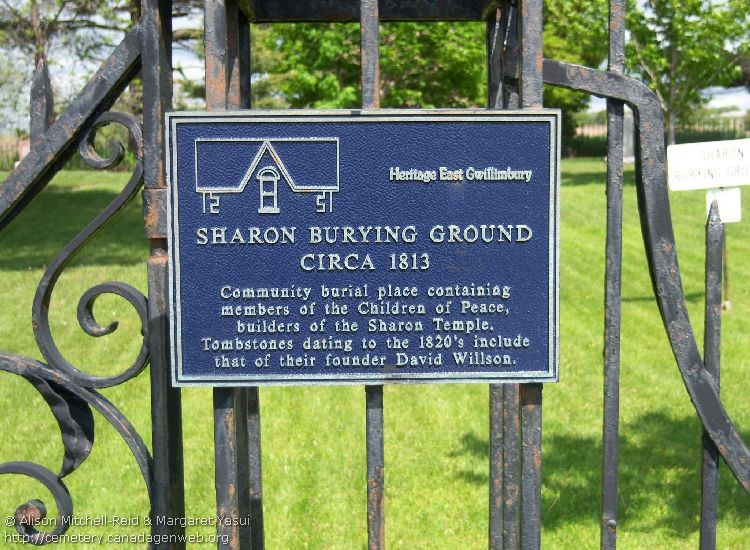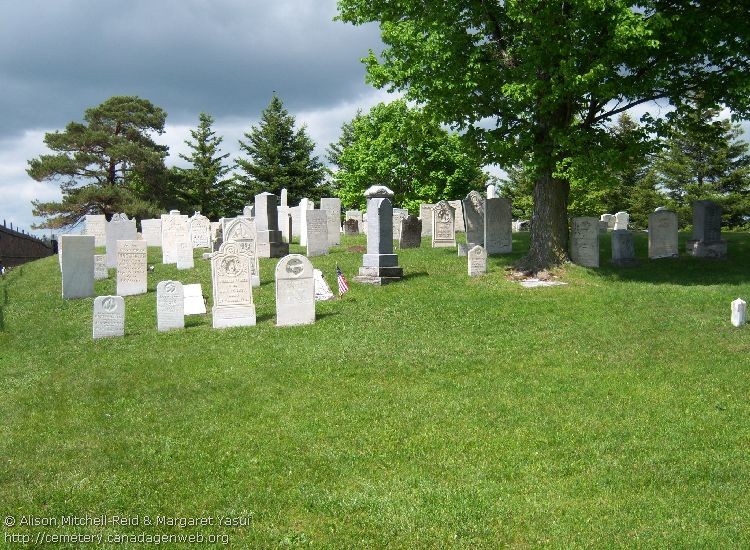 This index does NOT include every headstone in this cemetery
A B C D E F G H I J K L M N O P Q R S T U V W X Y Z All
- All persons named in this index may not be interred in this cemetery. Some are designated as spouse or parent on appropriate stones, and may not have their own birth and death recorded here (FAQ).
- Women, if maiden names are known, will appear under both their maiden and married names.
Name
Born - Died (Age)
ATKINSON, E
parent
ATKINSON, Jacob
parent
ATKINSON, Susannah
? - 1854
BELL, M.C.
spouse
BELL, M.C.
parent
BELL, Sarah
1835 - 1865 (age: 30)
BELL, Sarah
parent
BELL, Sarah Willson
1865 - 1874 (age: 9)
BRAM(M)AR, Ellen
parent
BRAM(M)AR, Ellen
parent
BRAM(M)AR, Ellen
parent
BRAM(M)AR, Hugh Willson
1837 - 1837
BRAM(M)AR, Israel John
1842 - 1848 (age: 6)
BRAM(M)AR, Joseph
parent
BRAM(M)AR, Joseph
parent
BRAM(M)AR, Joseph
parent
BRAM(M)AR, Sarah Catharine
1839 - 1848 (age: 9)
BRAMMAR, Ellen
parent
BRAMMAR, Joseph
parent
BRAMMAR, Rachel H
1836 - 1863 (age: 27)
BRAMMER, Catharine Elizabeth
1833 - 1835 (age: 2)
BRAMMER, Edward
parent
BRAMMER, Edward
parent
BRAMMER, George
1845 - 1848 (age: 3)
BRAMMER, Hannah
parent
BRAMMER, Hannah
parent
BRIGGS, Caleb
spouse
BRIGGS, Caleb
1818 - 1901 (age: 82)
BRIGGS, Caleb
parent
BRIGGS, Caleb
parent
BRIGGS, Caroline
1854 - 1859 (age: 5)
BRIGGS, Edward
1860 - 1862 (age: 2)
BRIGGS, Eliza
parent
BRIGGS, Henry
1861 - 1861
BRIGGS, Jane
parent
BRIGGS, Jane
parent
BRIGGS, Jonathan
parent
BRIGGS, Mary
1856 - 1869 (age: 13)
BRIGGS, Mary (Ried)
1818 - 1853 (age: 34)
BURR, Rebecca
1802 - 1874 (age: 71)
DENNIS, Enos
1781 - 1857 (age: 76)
DOAN, Charlotte
parent
DOAN, Elizabeth
parent
DOAN, Elizabeth J
1774 - 1843 (age: 69)
DOAN, Enos
parent
DOAN, George
parent
DOAN, George Martin
1886 - 1886
DOAN, Harriet
parent
DOAN, Jesse
1814 - 1868 (age: 54)
DOAN, Jesse
spouse
DOAN, John
parent
DOAN, John
parent
DOAN, John, Jr.
1802 - 1862 (age: 60)
DOAN, Joseph
1799 - 1851 (age: 52)
DOAN, Judah
1845 - 1854 (age: 9)
DOAN, Lottie
1882 - 1882
DOAN, Mahlon
1771 - 1852 (age: 81)
DOAN, Mahlon
spouse
DOAN, Mary
parent
DOAN, Rebecca
1773 - 1852 (age: 79)
DOAN, Sarah
parent
DOAN, Susannah King
1810 - 1894
DOAN, Wait Ann
1817 - 1878 (age: 61)
DOWNES, Sarah
1829 - 1872
DUNHAM, Benjamin
1817 - 1893 (age: 76)
ELMER, Mary
1819 - 1897 (age: 78)
ELMER, William
1819 - 1877 (age: 57)
FILDES, Jane
1807 - 1878 (age: 71)
FILDES, Thomas
spouse
FILDES, Thomas
1817 - 1879 (age: 61)
HAINES, Aaron
spouse
HAINES, Charles
spouse
HAINES, Honor F (Woodman)
1805 - 1836 (age: 30)
HAINES, Israel
parent
HAINES, Israel
parent