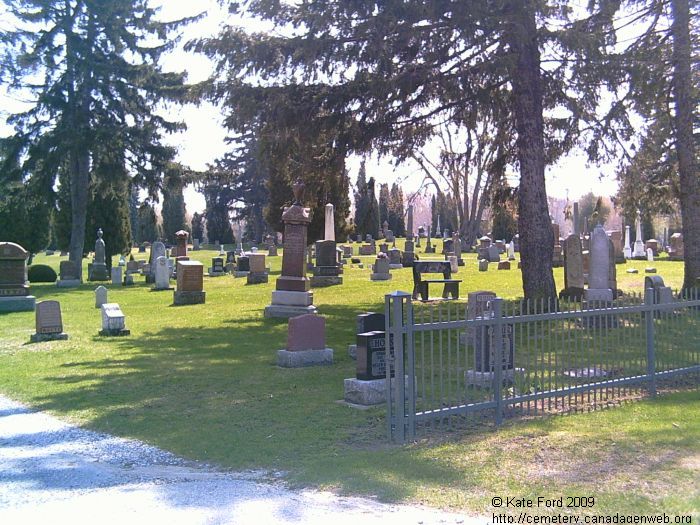 Street Address: 8152 Imperial Road
Community: Aylmer
Township: Malahide Township (Concession 5, Lot 11)
Locality: Elgin County
Municipality: Malahide
Province: ON
GPS: 42.744471,-80.982591

Church / Denomination: Anglican
Registered to* Aylmer Cemetery Board. Decoration Sunday is the third Sunday each August.
GENEALOGY RESOURCES (Add / Remove a link)
These links are provided for your convenience and may take you to websites that offer products and/or services for sale.
CanadaGenWeb's Cemetery Project does not control the content offered - take note of our site design, if it changes you've left this website!
On the Internet

CanadaGenWeb's Cemetery Project

(see below!)

Transcript: Elgin County Branch, OGS
Lookups: Kate Ford, kayt4d@amtelecom.net, Will travel to the cemetery
Lookups: Nancy Ross-Hill, polar_bear_mom@hotmail.com, I am willing to go and photograph or transcribe. Digital photos by email only.
Lookups: Jenelle Ware, jenelle.ware@gmail.com

Not on the internet
SOURCES / THANKS
---
Photos courtesy of Kate Ford (kayt4d@amtelecom.net) [2009-2016]
Indexed by Kate Ford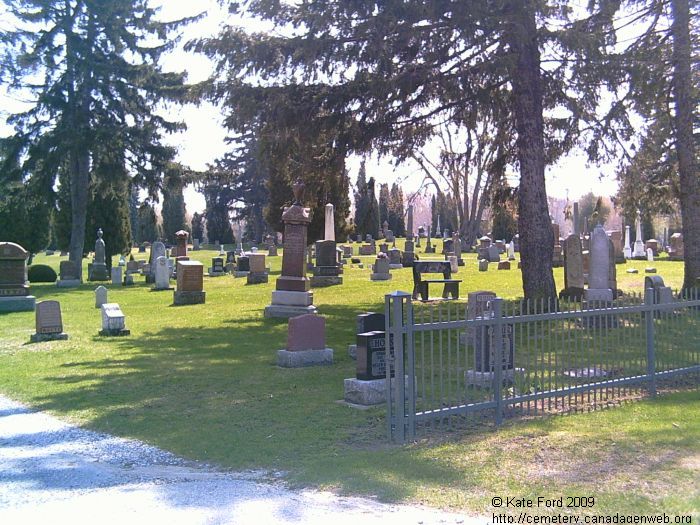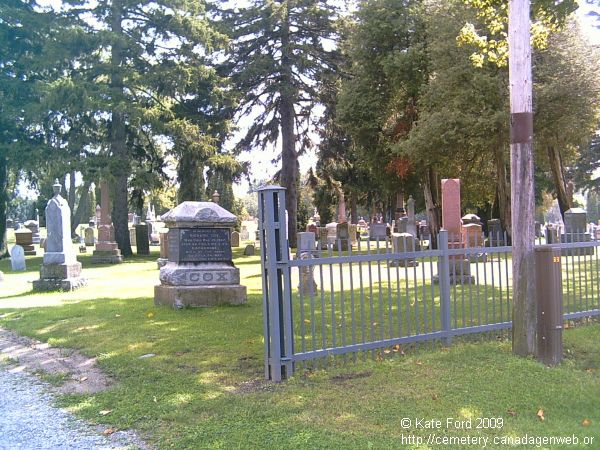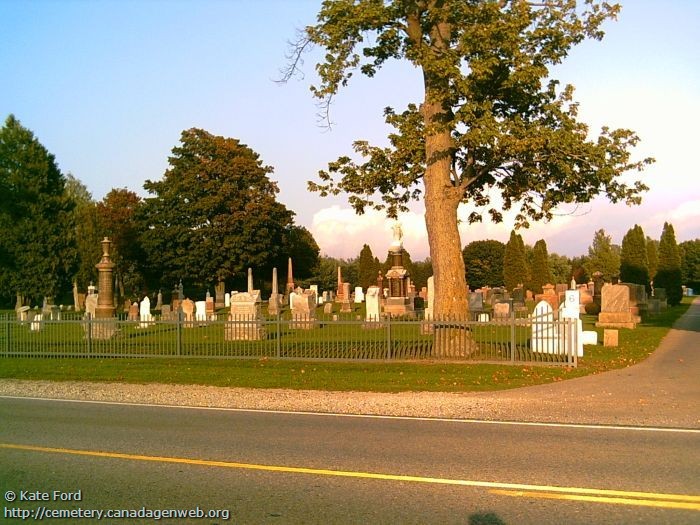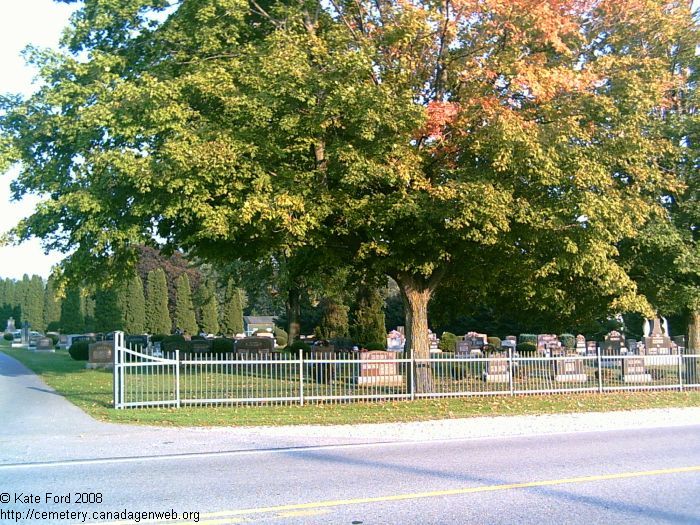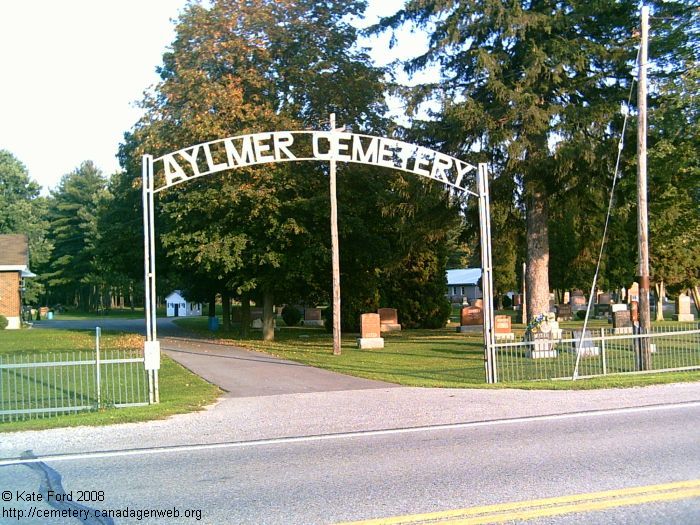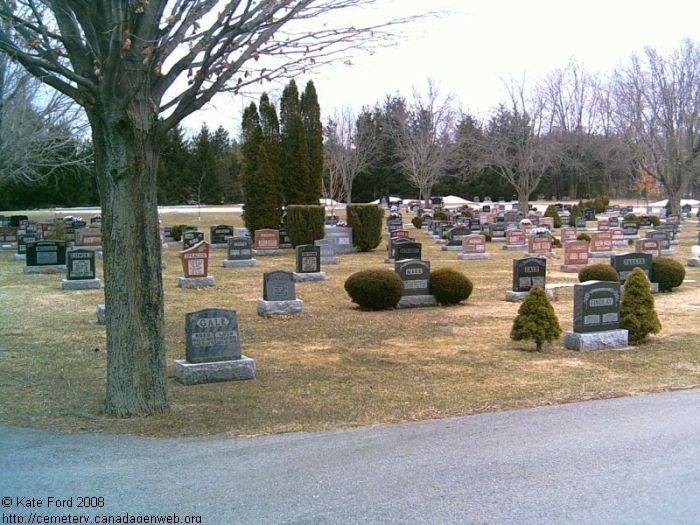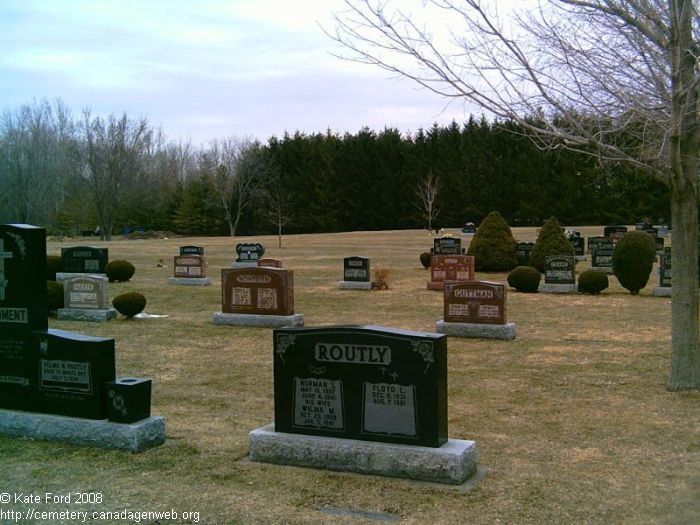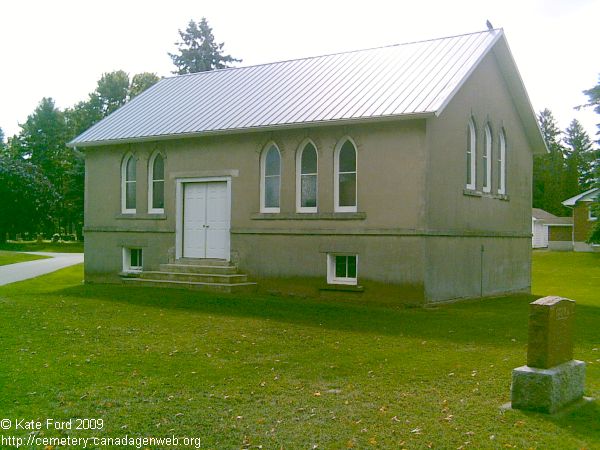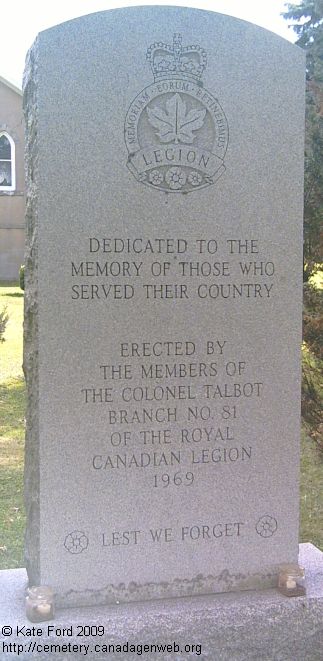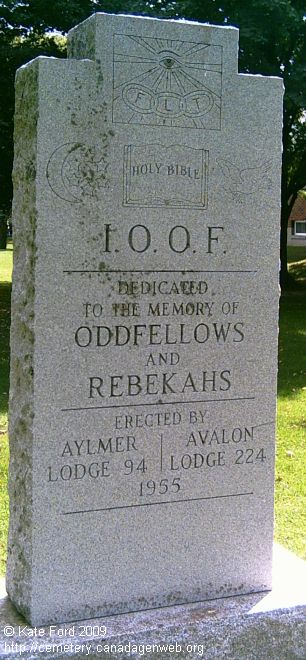 A B C D E F G H I J K L M N O P Q R S T U V W X Y Z All
Some persons named in this index may not be interred in this cemetery. They are designated as spouse or parent on appropriate stones, and may not have their own birth and death recorded here (See our FAQ).
Women, if maiden names are known, will appear under both their maiden and married names.
This index represents ALL visible headstones still in existence at the time this cemetery was visited
(Grandma) ? ? (age: 83)
(unreadable)
(unreadable) 1848 - 1895 (age: 47)
(unreadable)
(unreadable) 1858 - 1858 (age: 3m)
(unreadable)
?, Abigail 1839 - 1923 (age: 84)
?, Alice footstone
?, Allan footstone
?, Anna 1931 - 1953 (age: 22)
?, Brenda Lee ? - 1953
?, Deborah Jane 1954 - 1960 (age: 5)
?, Delia 1857 - 1884 (age: 27)
?, Elaine 1940 - 1941 (age: 1)
?, Ellie 1873 - 1964 (age: 91)
?, Elvis footstone
?, Eva footstone
?, Gwen ? - 1923
?, Howard footstone
?, Jane ? ? (age: 20)
?, Jimmie ? - 1899
?, John 1867 - 1875 (age: 8)
?, John ? ? (age: 25)
?, Lena footstone
?, Louise footstone
?, Margaret
?, Margie ? - 1932
?, Mary footstone
?, Mildred footstone
?, Ray Kenneth 189? - 1895 (age: 7m)
?, Robert footstone
?, Rosemary Ruth ? - 1964
?, Samantha footstone
?, Sharon footstone
?, Winfred footstone
ABBEY, Doris Jean 1918 - 1992 (age: 74)
ABBOTT, Alberta 1892 - 1981 (age: 89)
ABBOTT, Edwin Lewis 1886 - 1956 (age: 70)
ABBOTT, Margaret E. 1888 - 1980 (age: 92)
ABEL, Leitta May 1934 - 2003 (age: 69)
ABELL, Acel C. 1858 - 1884 (age: 26)
ABELL, Agnes 1908 - 1955 (age: 47)
ABELL, Anna parent
ABELL, Anna I. 1871 - 1961 (age: 90)
ABELL, C. Ray 1907 - 1989 (age: 82)
ABELL, Charles parent
ABELL, Charles O. 1859 - 1934 (age: 75)
ABELL, Cyrus parent
ABELL, Cyrus spouse
ABELL, Cyrus parent
ABELL, Cyrus A. 1825 - 1883 (age: 58)
ABELL, Florence Pearl 1891 - 1965 (age: 74)
ABELL, Gustin 1855 - 1932 (age: 77)
ABELL, Jack R. 1927 - 1997 (age: 70)
ABELL, Jessie Maud 1884 - 1913 (age: 29)
ABELL, Kathleen A. 1915 - 1976 (age: 61)
ABELL, Kenneth R. 1929 - 2002 (age: 73)
ABELL, Lela Loreine 1900 - 1901 (age: 1)
ABELL, Leta Bell 1902 - 1906 (age: 4)
ABELL, Lydia A. 1865 - 1918 (age: 53)
ABELL, M. C., Capt. 1891 - 1920 (age: 29)
ABELL, M. Pauline 1925 - 1949 (age: 24)
ABELL, Maretta 1851 - 1884 (age: 33)
ABELL, Mary Margaret (Bowen) 1860 - 1916 (age: 56)
ABELL, Pamela J. (Winters) 1952 - 2007 (age: 55)
ABELL, Reba F. 1905 - 1979 (age: 74)
ABELL, Sarah parent
ABELL, Sarah 1828 - 1895 (age: 67)
ABELL, Sarah parent
ABELL, V. Maxine 1921 - 2001 (age: 80)
ABELL, William Leonard 1953 - 2002 (age: 49)
ABELL, William Robert 1888 - 1956 (age: 68)
ABELL, William Russell 1914 - 1988 (age: 74)
ABRAMS, Cornelius V. 1963 - 2007
ACKARD, Sarah 1840 - 1889 (age: 49)
ACKERT, Dillman 1864 - 1948 (age: 84)
ACKERT, Edith 1867 - 1928 (age: 61)
ACKERT, Harold C. 1903 - 1984 (age: 81)