Our Lady of Mercy Roman Catholic Cemetery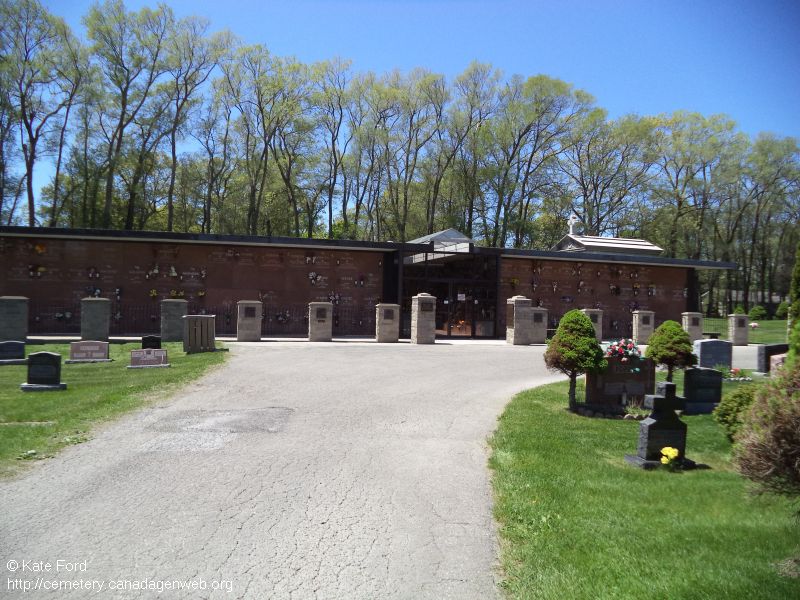 Street Address: Glen Allen Dr & Errol Rd
Community: Sarnia
Township: Sarnia Township (Concession 6, Lot 12)
Locality: Lambton County
Municipality: Sarnia
Province: ON
GPS: 42.998260,-82.384661

Church / Denomination: Our Lady of Mercy Roman Catholic Church
Registered to* R.C.E.C. of Diocese of London. Established as the Roman Catholic Cemetery at St Michael's Mission in the 1830's. The cemetery was moved east when the Our Lady of Mercy Church was built in 1878.
GENEALOGY RESOURCES (Add / Remove a link)
These links are provided for your convenience and may take you to websites that offer products and/or services for sale.
CanadaGenWeb's Cemetery Project does not control the content offered - take note of our site design, if it changes you've left this website!
On the Internet

Not on the internet
SOURCES / THANKS
A B C D E F G H I J K L M N O P Q R S T U V W X Y Z All
Some persons named in this index may not be interred in this cemetery. They are designated as spouse or parent on appropriate stones, and may not have their own birth and death recorded here (See our FAQ).
Women, if maiden names are known, will appear under both their maiden and married names.
This index represents ALL visible headstones still in existence at the time this cemetery was visited
BABIAK, Bella spouse
BABIAK, Walter Wladimer 1927 - 1976 (age: 49)
BABY, Alexis S 1881 - 1887 (age: 6)
BABY, Isabella ? - 1883
BABY, Josephine parent
BABY, Raymond spouse
BABY, Raymond parent
BABY, Raymond 1809 - 1876 (age: 67)
BACON, Abraham J 1893 - 1971 (age: 78)
BACON, Aurele J 1930 - 1994 (age: 64)
BACON, Jean Paul 1980 - 1980
BACON, John A 1926 - 1980 (age: 54)
BACON, Marie Anne 1912 - 1963 (age: 51)
BAECHLER, Katherine 1871 - 1937 (age: 66)
BAGLEY, Joan M (Hargrave) 1924 - 1987 (age: 63)
BAINES, Maryhelen 1933 - 2000 (age: 67)
BAJC, Anna Marie 1956 - 1999 (age: 43)
BAJC, Frances 1929 - 1993 (age: 64)
BAJC, Frank 1927 - 1987 (age: 60)
BAKER, Charles W 1925 - 1969 (age: 44)
BAKER, Edna 1908 - 2001 (age: 93)
BAKER, Edward G "Ted" 1905 - 1986 (age: 81)
BAKER, Nicole 1991 - 1991
BAKER, Shannon parent
BAKER, Sue Ann 1951 - 1977 (age: 26)
BALDASSARRE, Elisa 1940 - 2000
BALDASSARRE, Enrica 1943 - 1993 (age: 50)
BANCROFT, Michael Sutcliffe 1943 - 1983 (age: 39)
BANDAK, George Issa 1937 - 1993 (age: 56)
BANDLA, Charlie 1918 - 1974 (age: 56)
BANDLA, Jennie 1925 - 1997 (age: 72)
BANKER, Maria C (Johnston) ? - 1920
BANKER, Thomas P spouse
BANOVSKY (Living)
BANOVSKY, Paulina 1898 - 1976 (age: 78)
BANOVSKY, Stefan 1894 - 1980 (age: 86)
BANVILLE, Elaine 1915 - 2003 (age: 88)
BANVILLE, Emelda 1917 - 1969 (age: 52)
BANVILLE, Frederick 1892 - 1973 (age: 81)
BANVILLE, Lucien 1928 - 2014
BANVILLE, M Beth 1924 - 2006 (age: 82)
BANVILLE, Marie Anne 1891 - 1981 (age: 90)
BANVILLE, Roger spouse
BANVILLE, Theresa M 1928 - 1984 (age: 56)
BANYASZ, Angela 1953 - 2003 (age: 50)
BANYASZ, Jozef spouse
BARABAS, Barney 1929 - 1996
BARABAS, Margo 1928 - 1986
BARAN, Eudokia (Hucajluk) 1910 - 1993 (age: 83)
BARAN, Jacob S 1900 - 1998 (age: 98)
BARAN, Kastina 1896 - 1982 (age: 86)
BARAN, Stephen 1908 - 1981 (age: 73)
BARANEK, Walter 1927 - 1996 (age: 69)
BARANIUK, Alexandra parent
BARANIUK, John parent
BARANIUK, Marek Jan 1955 - 1995 (age: 40)
BARBATO, Antonio 1937 - 2002 (age: 65)
BARBEAU, Lucienne 1914 - 1987
BARBEAU, Maurice 1914 - 1987
BARCLAY, Edward A ? - 1977
BARCLAY, James spouse
BARCLAY, Sarah parent
BARCLAY, Sarah T ? - 1942
BARDELL, Jeannette parent
BARDELL, Jeannette parent
BARDELL, Jeannette L 1945 - 1977 (age: 32)
BARDELL, Ricky 1971 - 1971
BARDELL, Ricky 1971 - 1971
BARDELL, Ron parent
BARDELL, Ron parent
BARLOW, Jane 1849 - 1927 (age: 78)
BARON, Bernadette "Winkie" 1936 - 2000 (age: 64)
BARON, Jean 1934 - 1985 (age: 51)
BARR, Edith 1893 - 1968 (age: 75)
BARR, Leona 1906 - 1974 (age: 68)
BARR, Pauline 1907 - 1992 (age: 85)
BARRETTE, Rose 1906 - 1965 (age: 59)
BARRON, Mary R 1893 - 1971 (age: 78)