Oakland / Proudfoot Cemetery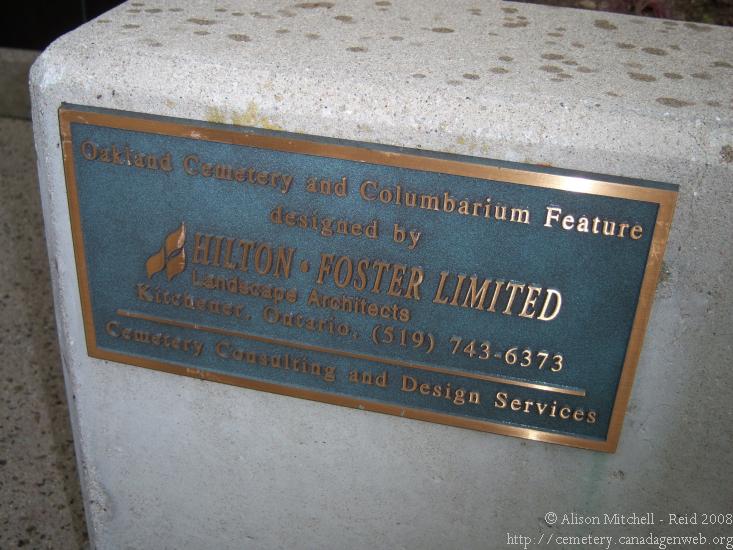 Street Address: 390 Oxford St W
Community: London
Township: London Township (Concession 1, Lot 9)
Locality: Middlesex County
Municipality: London
Province: ON
GPS: 42.986556,-81.283915

Owned and operated by Mount Pleasant Cemetery (London) Inc. Oakland Cemetery was instituted as a cemetery in 1855 by the United Presbyterian Church Congregation on the west side of the site. In 1864 the Wesleyan Methodist New Connections Church established its cemetery on the east side, and in 1882 the two groups amalgamated their holdings into Oakland Cemetery, also known as the Scotch Cemetery and Proudfoot Cemetery. The cemetery was left unattended and neglected for many years, except for the efforts of Reverend Elson who tried to clean the cemetery up in the early 1950s' and Oakridge Secondary School students who undertook Project '75 with another clean up. Unfortunately their efforts were never continued. The Cemetery was conveyed by deed to Mount Pleasant Cemetery (London) Inc. in 1982 by the Metropolitan United church and the First St. Andrews United Church on the basis of an undertaking by Mount Pleasant to willingly guarantee "to rebuild and redesign said property maintaining the traditional dignity of a cemetery property to the high standards of Mount Pleasant Cemetery"%. All historical burial and lot records were destroyed in a house fire many years ago. While no one knows the exact number of interments made, because of the practice of unmarked graves, the estimates range from 350 - 574 burials.
GENEALOGY RESOURCES (Add / Remove a link)
These links are provided for your convenience and may take you to websites that offer products and/or services for sale.
CanadaGenWeb's Cemetery Project does not control the content offered - take note of our site design, if it changes you've left this website!
On the Internet

Not on the internet
SOURCES / THANKS
Andrew Timleck
Linda Fitches
A B C D E F G H I J K L M N O P Q R S T U V W X Y Z All
Some persons named in this index may not be interred in this cemetery. They are designated as spouse or parent on appropriate stones, and may not have their own birth and death recorded here (See our FAQ).
Women, if maiden names are known, will appear under both their maiden and married names.
This index represents ALL visible headstones still in existence at the time this cemetery was visited
(infants)
(London East Rotary Millennium Time Capsule)
(Memorial Rock)
(pioneer child)
(pioneer infant)
(unknown)
(unreadable)
?, Alice ? ?
?, Anne ? ?
?, Anne ? ?
?, Christian Ann 1850 - 1866 (age: 16)
?, Elizabeth Evelyn ? - 1953
?, George 1784 - 1868 (age: 84)
?, Suzanne Olivia ? - 1946
?, William 1884 - 1884
ACKLAND, Donald James 1936 - 1997 (age: 61)
ACKLAND, Emma 1855 - 1922 (age: 67)
ACKLAND, John 1854 - 1924 (age: 70)
ADAMS, James W. "Jimmie" 1932 - 1997 (age: 65)
ADDISON, Wilhelmina 1902 - 1998 (age: 96)
AGNEW, Robert H 1851 - 1879 (age: 28)
AGNEW, Robert H 1854 - 1881 (age: 27)
AICHER?, Bastian? 1816 - 1866 (age: 50)
AICHER?, James G 1817 - 1864 (age: 47)
AICHER?, Rachel 1840 - 1860 (age: 20)
ALCOCK, Norton 1924 - 1994 (age: 70)
ALLISON, J Fitzgerald 1926 - 2001 (age: 75)
ALLISON, Wayne Raymond 1957 - 2006 (age: 49)
ANDRESS (Living)
ANSTRUTHER, Jessie S H 1927 - 1999 (age: 72)
ATKINS, Randall Lester 1946 - 1999 (age: 53)
ATWELL (Living)
ATWELL, Evelyn F (Miles) 1922 - 2003 (age: 81)
BALFOUR, Olive Faith (Hollyman) 1920 - 2005 (age: 85)
BARKER, Ledson J 1909 - 1996 (age: 87)
BARLOW, Maureen A (O'Farrell) 1933 - 1998 (age: 65)
BARNEY, Sarah 1862 - 1919 (age: 57)
BARWICK, Harriet 1845 - 1894 (age: 49)
BARWISE, Margaret 1807 - 1886 (age: 79)
BATSON, Nancy Anne ? - 1974
BECKWITH, Dina (Bushill) 1837 ?
BECKWITH, Joseph 1834 ?
BELLANSON?, George 1849 - 1870 (age: 21)
BENSON, Helen 1803 - 1840 (age: 37)
BERNEY, Redmond "Red" 1928 - 2007 (age: 79)
BILLINGE, Mercedes 1913 - 2005 (age: 92)
BILLINGTON, Peter H 1938 - 2006 (age: 68)
BINNS, Mavis 1929 - 2005 (age: 76)
BINNS, Stanley 1926 - 2006 (age: 80)
BLACK, Helen (Benson) 1803 - 1840 (age: 37)
BLACK, James 1792 - 1873 (age: 81)
BLACK, Jane Anderson 1840 - 1842 (age: 2)
BLOEMBERGEN, Rudolf Herman 1920 - 2000 (age: 80)
BOGUE, ? 1798 - 1887 (age: 89)
BOGUE, Annie ? - 1895
BOGUE, David parent
BOGUE, Eliza 1832 - 1910 (age: 78)
BOGUE, Isabella 1820 - 1897 (age: 77)
BOGUE, James 1825 - 1900 (age: 75)
BOGUE, Margaret 1824 - 1898 (age: 74)
BONELL, David Russell 1918 - 1998 (age: 80)
BOON-FEHLER, Mary 1918 - 2003 (age: 85)
BOOTH, Margaret (McDermott) 1924 - 2000 (age: 76)
BOUTHILLIER, Susan F 1953 - 2004 (age: 51)
BRAD, Ida Theresa 1865 - 1929 (age: 64)
BRADLEY, Annie ? ?
BRADLEY, Hattie ? ?
BRADLEY, J.G. spouse
BRADLEY, Kate 1849 - 1883 (age: 34)
BRADLEY, Kate ? ?
BRAK, Corrie 1935 - 2005 (age: 70)
BRIGHT, Raymond Barry 1920 - 2007 (age: 87)
BRIGHT, Stephen 1946 - 1998 (age: 52)
BROLI, Charles W 1921 - 1999 (age: 78)
BROOKBANKS, Neil 1944 - 2004 (age: 60)
BROOKS, Frank Davis 1955 - 2005 (age: 49)
BROWNLIE, Elma M 1917 - 2005 (age: 88)
BROWNLIE, William D 1910 - 2000 (age: 90)